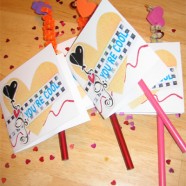 I'm Awake… I'm Awake…
Sorry I've been such a mia loser lately! I seriously did think I might be pregnant already (mostly because I'm totally neurotic) – but no such luck this month – seems like it was just an exceptionally tiring bout of pms – on a good note though – I'm finally up like full days at a time, so that is good :)
Now that I'm not asleep, I'm trying to make up for lost time, and working extra hard on a fun project with Lauren Grier over at SSD- I've also been trying to get really consistent in general, about keeping the house manageable and to boot I REALLY REALLY want to release at least one new thing weekly on Sweet Shoppe Saturdays – my goal is, to be consistent enough that I think I can afford to PAY someone else to come in and scrub the toilets and the floors and stuff, since goodness knows I'd rather be creating than scrubbing!
Well today is Valentines day, and I'm really excited, g and I have a decided officially to stop trying to go out of Valentines day because I swear every year our plans get ruined because of the kids being sick, or the sitter being unavailable, so for the past few years, we've just been home bodies, we get curbside and eat a yummy dinner at home – I'm really looking forward to our "date".
Also, Gareth and I had a TON of fun designing/making his valentines this year! We found this idea online to make pencil toppers with a pipe cleaner and a foam heart, so we sort of modified ours just a bit and together we designed some valentines in Photoshop (he was adorable helping me pick stuff out from dani's Crazy love kit and a paper heart I made – he insisted we throw my heart in there – "since you're famous mom" he said :))
Here are our marvelous creations!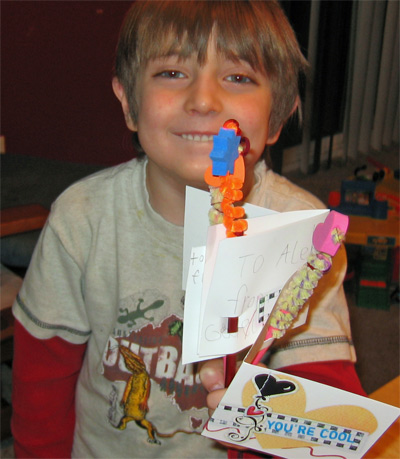 Note they all say "you're cool" well after lots of discussion Gareth decided that was a safe thing to say, as to not give any girls the wrong idea… Seriously, already thinking of their feelings, so very thoughtful!
Okay so, I am trying to finish this post up so I can get back to what I really should be doing, but first, a few little treats:
If you go to MY STORE you can pick up my All You Need Is Love brushes totally for free today only ;).
ALSO, because I love my bloggy readers so much, and because last week I was so tired that I couldn't finish anything I started, here is a set of grungy solids and 1 fun patterned paper that was going to be the beginning of a valentines kit – but of course, valentines kits don't get made in ones sleep – so my utter laziness is your gain -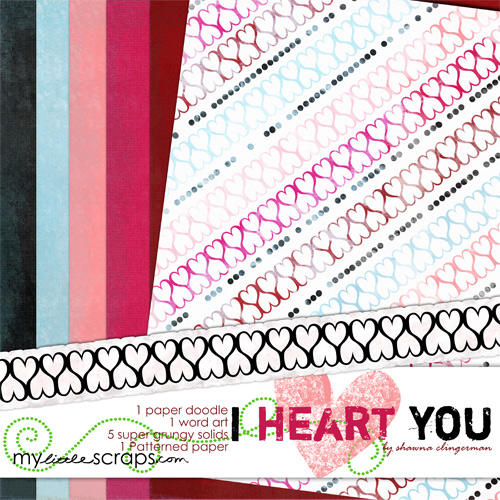 I'll probably just keep this up like today and tomorrow, so spread the word if you'd like, and you can download it HERE, the grunge is a bit intense on the solids, but that is how I personally love it, so you'll have to let me know what you think.
Oh, and while I'm blogging, don't miss my newest doodles up at SSD: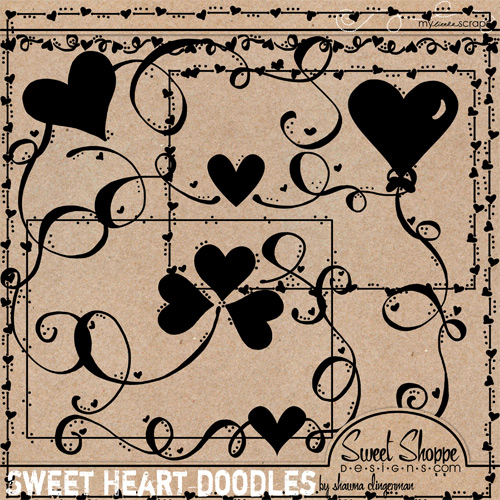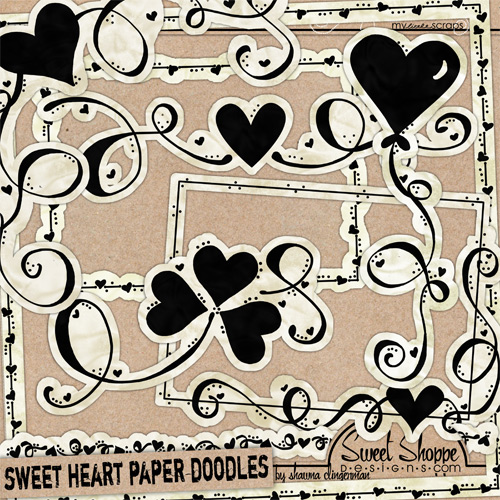 I made them as brushes and stamps, and also as grungy paper doodles, so you can take your pick they are over in the Shoppe at Sweet Shoppe Designs.
Okay well that is all for me – i need to get busy on mom stuff and designing stuff – plus, i absolutely have to take a shower! :)
Have a really really awesome valentines day everyone!
(PSST – leave me some love!)