Okay so I know I've been missing – wow this pregnancy is just a butt kicker! The zofran was a real life saver, but it still made me feel odd, and seemed to bring on headaches so it was nice not puking, but I was still pretty much out of commission with it all.
Luckily it seems like week 17 was FINALLY the magic number – and I'm making up for some lost time now eating my heart out!
I feel like there are so many things I want to share, life has been filled with inspiration, even sitting sick on the couch my life has been rich and full of love and life, the little men marching around the house (making a ruckus, but reminding me too how full my heart is) and the little one growing in my tummy getting bigger, moving more and more and making itself known and making mommy smile.
I just am beyond behind with blogging – but the basics are, I'm feeling well (FINALLY!) and the kids are doing great, gareth is still loving second grade. We are all enjoying the season change… less miserable heat, more pretty pretty rain… Okay maybe not ALL of us are loving it, poor Reece broke down in tears today when it started raining again because he wanted to play outside. But I have to admit, I'm loving it and welcoming a bit of cool fresh weather after what seemed like a miserable long summer.
So, all I have for you really are a few pages I've done over the past well month or so, but I thought I'd get them added on here so that my bloggy is all up to date.
The most recent page I did, I was dying to scrap a page about Gareth starting second grade so I opened up all my pictures of him all proud in his back pack, and getting on the bus and then this little series g took of him and I waiting for the bus were the ones I just had to scrap…. I have issues with scrapping "events" so this was my way around it for the time being: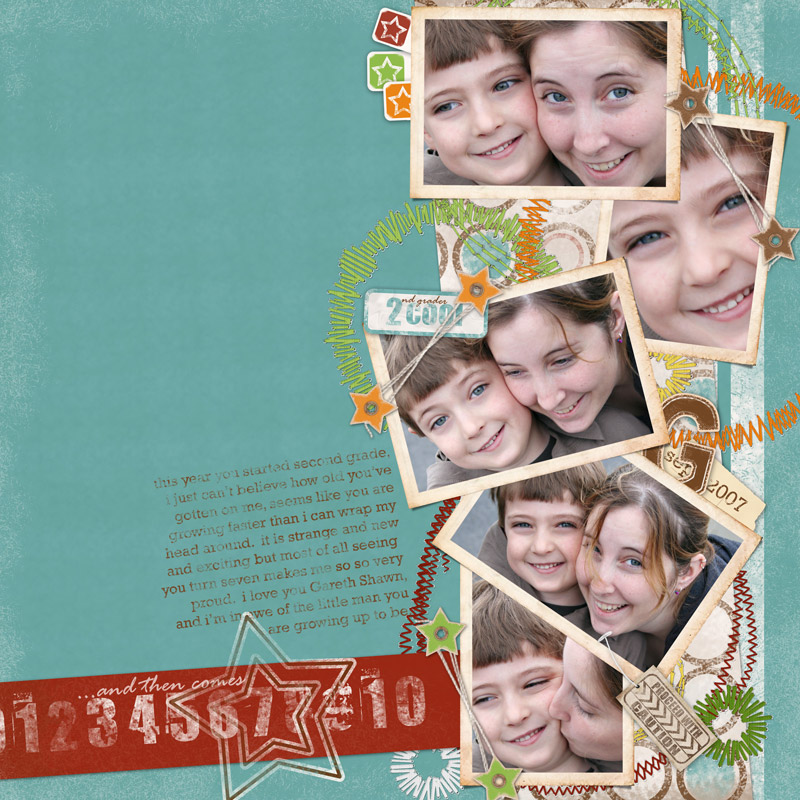 This is Dani Mogstad's "Old School" kit available at SSD and DesignByDani. Stitches are Dani Mogstad's "Imperfect Circles" (plus a few other dani goodies thrown in too). Frames are from Nancy Comlab.
This is a page I did in AUGUST (okay maybe these are more than a month old!) For a Sweet Shoppe Sugar Free Challenge I hosted. My theme was "Real Life is…." and this is where I went with it: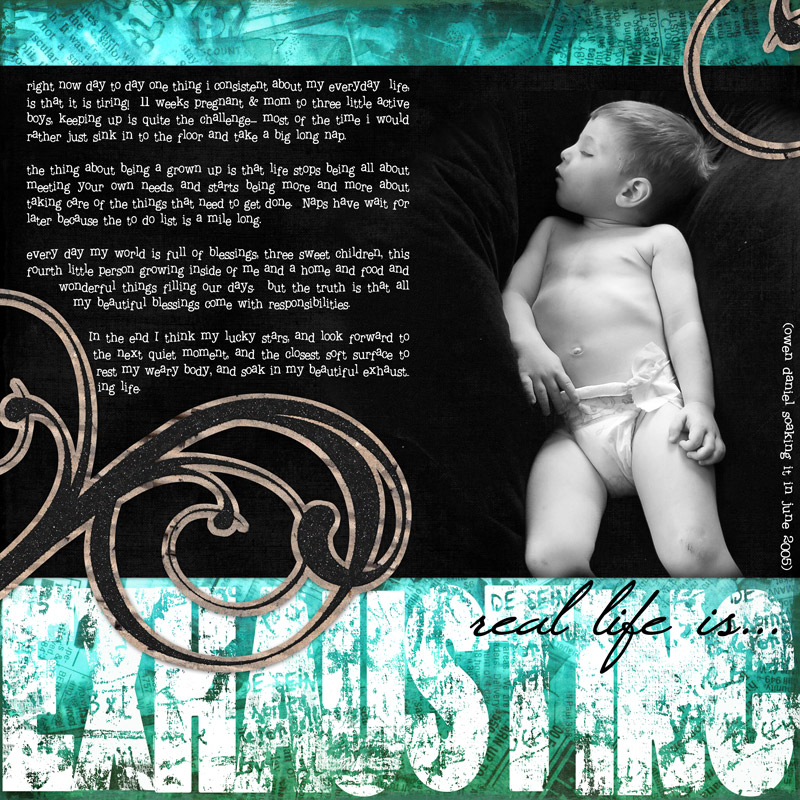 This GORGEOUS back ground is from Lauren Grier. Black Paper and Cardboard Doodle is from Robin Carlton's Space Invaders. Alpha is my Graffiti Grunge Alpha. All from SSD. Fonts: Windsong and Problem Secretary
This, also from August was a scraplift of our Treat of the Month. I just had to lift the amazing Amy Pearson! I chose her page "Crazy Photographer" and I love what it inspired me to create!!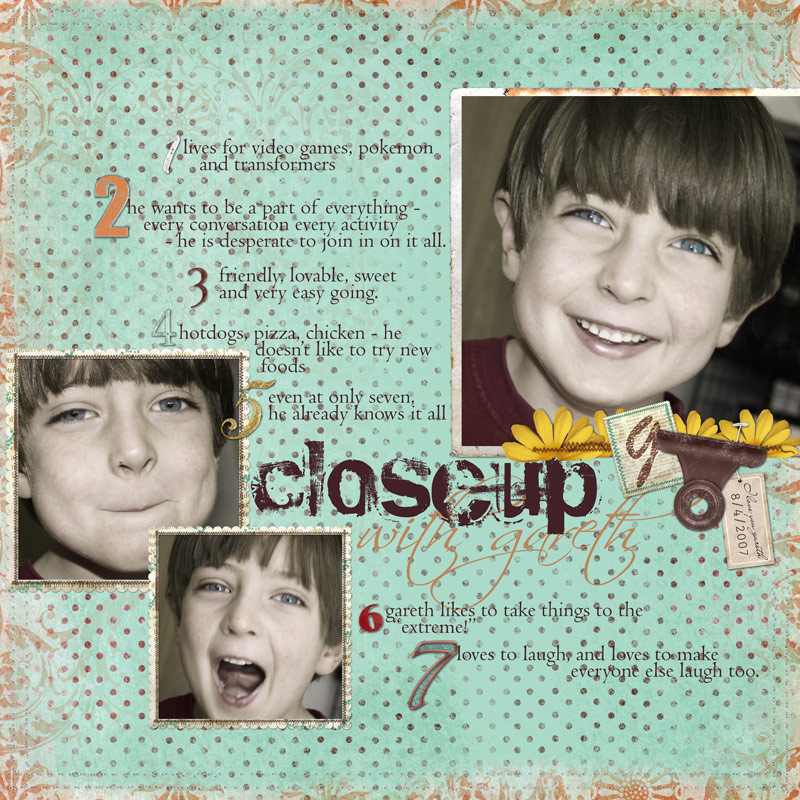 This is Dani Mogstad's incredible kit "Saturday Market" at SSD and DesignByDani. Aged Frame by Jessica Bolton. Fonts: rusted plastic, centaur, scriptina, prestige elite std, LainieDay.
Finally, here is a page I promised to show you a long time ago, but I just keep sitting on it because I think I'm going to do something more to make it not so terribly simple…. but you know… I can't seem to do it, so here you have it just as it is: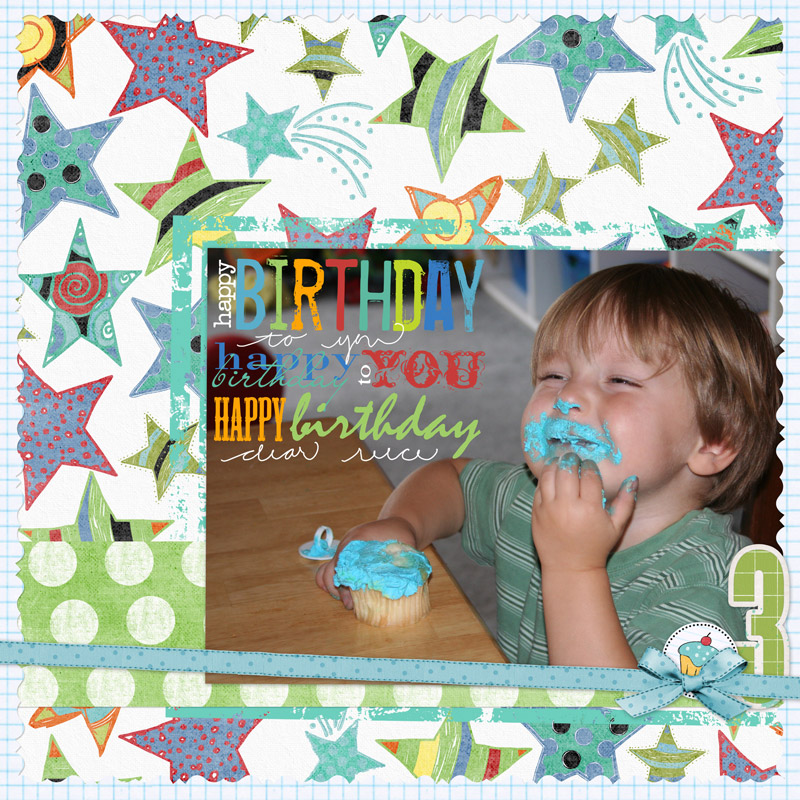 This is a kit of Shabby Princesses that I got quite some time ago, specifically FOR birthday pictures :) And that is my grunge frame. The number 3 is from Manda Bean's "Algae Eater" at SSD.
So there you have it… pretty measly little selection there considering I have MONTHS with out showing pages off…. I really am feeling the urge to get better about this, my little guys are just growing up right under my nose and I want to capture it before it is gone… but you know how life is, keeping me hopping… Life is a marathon it seems and sometimes inspiration is just really hard to find when you are so tired you can't see straight! But you know… tomorrow is a new day, and I'm confident that I'll find a way to fit in everything that really matters when it is all said and done.
And with that – I should get my pregnant little self to bed. I should be back soon with more to share, but if not, you can expect to hear from me on OCTOBER 19th at the very latest – because that is the big day when we get to find out if this little monkey is our even boy number four, or our life changing little baby princess…. Wish me luck with the waiting until then! AHHHHH! :)