So – this week is spring break, and we've been enjoying the low key week so far – the boys are enjoying the time together and I'm really impressed at how well the three have been getting along, and re-adjusted to having big brother home all day. I have to say I've also really appreciated the chance to NOT have to jump out of bed at 7 am, to get Gareth sent off to school on time!
One big goal I have had for this week, aside from trying to get some fun activities for the kids squeezed in, is that I really needed to get the three shaggy headed brothers in to get haircuts – usually I do this myself, but seriously three haircuts is not something that we just do in 10 mins and get done, it is quite the ordeal with bribing and begging to sit still, not to mention the mounds of hair EVERYWHERE to clean up afterwards… I have to admit, although I'm feeling pretty good, and getting ALMOST everything that is vital squeezed into my days, I just don't have it in me to face the whole home hair cut fiasco.
Well today it was soooo nice out, very much like spring should be, and the boys were so kind to tennyson and I this morning, letting us sleep in (thank you very much to the new pokemon video!). So feeling rather well rested, I decided to bathe all the boys, put Tennyson in the stroller and take a walk down the road to great clips and get my boys hair cut (let THEM clean up the hair and deal with the wiggles this time).
Here is Tennyson all ready to go: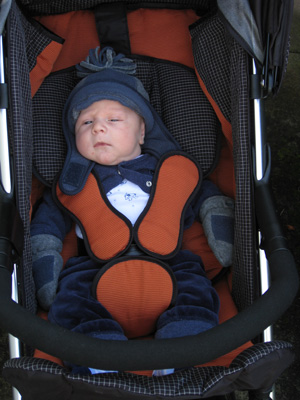 The boys were all about helping push – it was sweet, they really take such good care of him. Here are all four brothers together: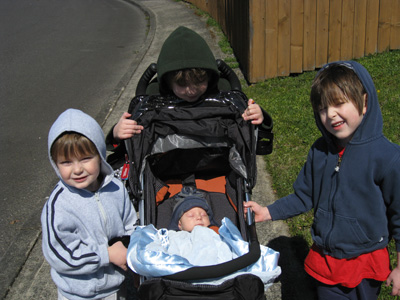 I hate the home haircuts because the kids will NOT sit still and they whine and all in all it is miserable for everyone. But ofcourse, when we go somewhere, it is like three totally different children! They were soooooo good, and even my Reecey, who has quite a bit of spunk in him, was a total angel – I couldn't believe how still he sat, I don't think I've even ever sat so still for a haircut.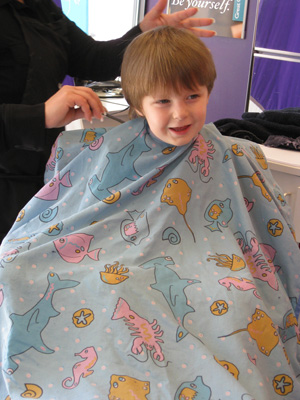 Afterwards, they were sooo handsome :) They were proud too, even posed (somewhat) for a picture together!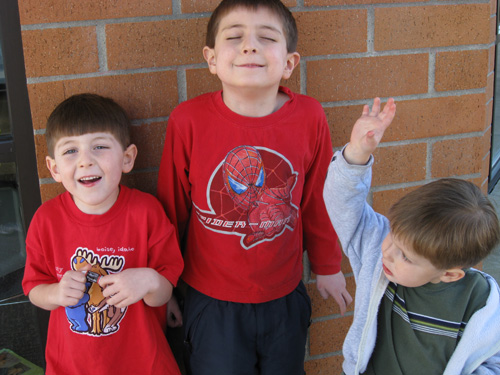 After haircuts we all shared a tuna sub at the Subway next door, then we all headed home – I was feeling so pleased with my four sweet boys. Tennyson was so peaceful – he loved being outside and fell fast asleep, and the three big brothers were really good for me. I was a bit nervous about our first walk together with all four (and with my worn out postpartum body) but instead of it feeling stressful, it was so refreshing. I was so pleased with how good the kids were for me, and we all had a really great time.
As I was reveling in my wonderful outing with the kids, they totally put the icing on the cake with this little scene: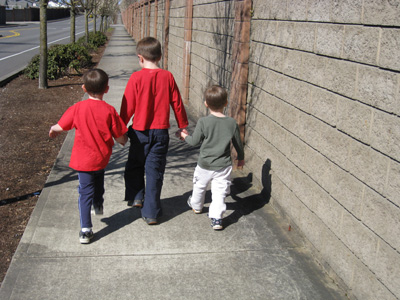 As if that wasn't enough, then they all started yelling together "WE ARE THREE BUDDIES" seriously – one of those moments that make a mommy smile from ear to ear.
Then Gareth yells – MOM turn on your video camera (uh yeah, I'd forgotten my camera did this…) So, it would make Gareth very happy if you click HERE and see them in action (i still need to figure out a pluggin that will let me embed these things here on my blog).
All in all, it was a beautiful day – we got home with out a hitch and I breathed a deep sigh of relief… and then another sigh, because life is so darn good!