Ok, so as I'm waiting for my upcoming surgery… and trying not to freak out. I've been finding myself  fixating on smaller less important details than cancer and anesthesia and recovery and you know like cutting into my neck and all…  it all just gets me totally freaked!
…So what I've been thinking about instead lately, is my neck.  You see, I'm getting this surgery in May.  And my surgeon told me that she wants me to keep my neck covered and out of the sun for at least 6 months post-op.  I also have a friend who has a tiny perfect little scar from a partial thyroidectomy, and she said the key is absolutely to keep it out of the sun, at all times, even if its cloudy out, just keep that puppy covered, for a full year even….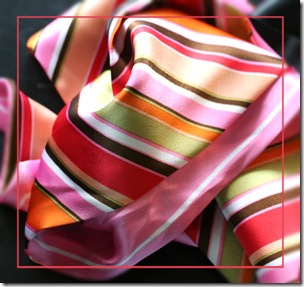 Which means, all summer long this summer… I am going to have to cover my neck.  I am SOOOO not a turtleneck type of girl.  I have a short neck, and a little head, and really those looks are BAD for me… and also, I feel totally claustrophobic and really hot!  I'm trying to figure out how I'm going to make it through the summer with out dying of overheating, and yet still keeping my neck covered.  The winter will be easy for me, because I wear knit winter scarves all the time, but I've never worn a summer scarf or a decorative scarf ever…. so I'm feeling a bit lost at the prospect!
The other day at target,  I found a few little silk-type scarves on sale… and had to have my sister give me a few tutorials on how to wear them… but I could really use some suggestions from people out there in blog land that have any experience at all with scarves, or you know other clever ideas for keeping my neck covered when its warm out?  I'm so not a dressy high maintenance type of girl, and all this stuff just confuses me!!!  Tell me what to do people!
(I wanted to say also, THANK YOU so so so much to everyone for your support on my last post… I'm just taking it one day at a time here, but everyone's love and well wishes mean the world to me.   Thank you all for making me feel so loved)
Read More
I keep going round and round with this, how to post it on my blog…
I've been trying to get on here and force myself to post for the past few weeks… but I've made no secret of the fact that I haven't been feeling super great the past several months now… I struggle from time to time with depression, and this bout of it has really knocked me off my feet…
So how do come out of the blue after I've been so quiet hiding in my cave, and to let everyone know what's going on with me… really, there isn't really a clever or amusing way to post it all… so, I guess I just lay it out there…
Basically, long story short, I went to the Dr. last month for strep throat, and while I was there to get antibiotics the doctor felt that my thyroid was enlarged.  I'm actually surprised I didn't see it before because I have a bit of a lump in my throat you can actually see, and it is very noticeably big on one side.  As a rule, an enlarged thyroid usually means some sort of thyroid disorder and so we did blood work (came back normal, so I don't have an over/under active thyroid) and then we scheduled an ultrasound to see if it there were any cysts or nodes (which was really unpleasant, I'm not a fan of having that us wand shoved into my neck!).  The ultrasound found a solid mass, so from there I was referred to a surgical specialist who set me to have a biopsy.  The surgeon assured me benign masses or "nodes" are really common on the thyroid and the chances of cancer are sooooo low, but it is important with masses just to be sure…
Well, I had my follow up appointment after my thyroid biopsy on Thursday, and the biopsy shows that it is likely cancer… Surgeon  said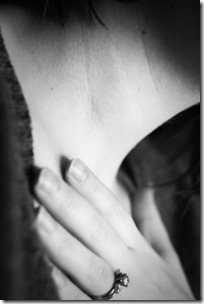 she really hadn't been expecting to get that result, actually she said usually the notion of cancer isn't something that she talks about with most of her patients with thyroid nodes because it is so uncommon (90% of thyroid masses are benign), and thyroid cancer is even more rare in people under 40.  So she is glad we chose to biopsy it and deal with it even though I am young and statistics were in my favor.
Basically now we have surgery scheduled for May 6th. They'll remove the thyroid lobe with the mass and while I'm still on the table under anesthesia pathology will look at it and tell us if  the tumor appears cancerous, if so they take out my whole thyroid, and after surgery I go on to see an oncologist and we deal with it.
I really highly was NOT expecting a cancerous result, so I am feeling little shocked… but they say this type of cancer really really highly treatable and that this isn't the kind of cancer that will "get you."  It is called Follicular Thyroid Cancer, it can usually be treated specifically with surgery and with this radioactive iodine treatment, and because the thyroid is the only part of the body that absorbs iodine, we should be able to treat it with out all the usual nasty side effects that come with cancer treatments.
They family has been great about it, G is of course being so supportive and strong.  I just don't know what I'd do with out him. (If you are interested, he did a great post on his blog a few weeks ago about this year and how hard its been on our family so far) He is such a rock, and taking up the slack for me around the house and in all areas of life even as we are dealing with this too.  I'll tell you one thing, when it is all said and done, the man deserves a vacation!
As for the boys, they know mom hasn't been feeling well for a while now physically and emotionally, and they know I have something in my neck that is making me sick and I'm going to have to take it out.  We haven't specifically explained like what cancer is and what it can mean for some people, since we are trusting that this is just in my thyroid and will be treated as easily as that…
We're all suspecting a little, that the mood problems and energy problems I've been having could be related to my thyroid, but we sorta have to wait and see for now, since my first bout of blood work came back normal… I guess after they take it out that is something we will be monitoring…
Anyways… I sorry for the novel… lots of info there…  I'm not sure how much I'll be up to posting between now and the surgery (my vote is for not at all though, since I've been  posting so super chatty lately), but I will post after my surgery to let you guys know what the final pathology is.
Until then I'd appreciate everyone's thoughts and prayers.
Read More