Wow, so three posts in one day, that must be some sort of a record or something!
I'm just glad the store is LIVE and I can show you this new kit!!! First off, let me say it was so so awesome collaborating with Misty Mareda, she has got some mad-digi-skills! I think this collab is so cute and I'm rushing through this post as fast as I can so that I can get to scrapping a page with it!!!
Here it is: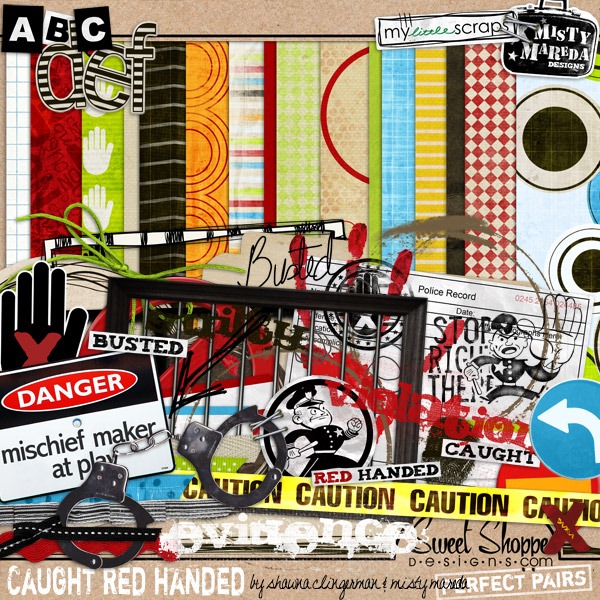 Caught Red Handed makes me happy every time I look at it! It's so bright and fun and just perfect for naughty little (or big) boys and girls everywhere! Check out what the team did with it:
So for our big winner random.org and I picked this:
So congrats to Alison our 24th comment…-er… (commenter??? commentor???) … the person who left the 24th comment. :P
Next we have my little doodle pack: Border Bits: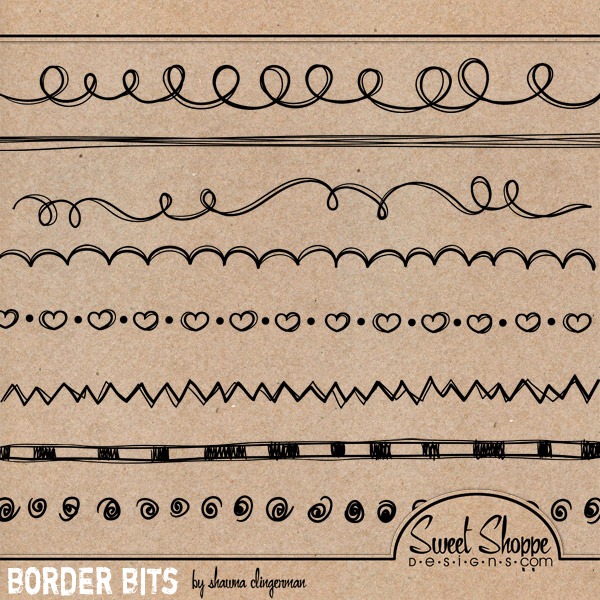 8 adorable borders that won't break the bank – check them out HERE.
Of course I picked a winner for these too:
..and comment number 4 belongs to Rebecca (MamaBee)! Who actually said in her post "I must have the doodles!" LOL well you got um!
Finally, last but so totally not least, I'm so excited to show you this little 4 by 6 book that Jaclyn made with U and I: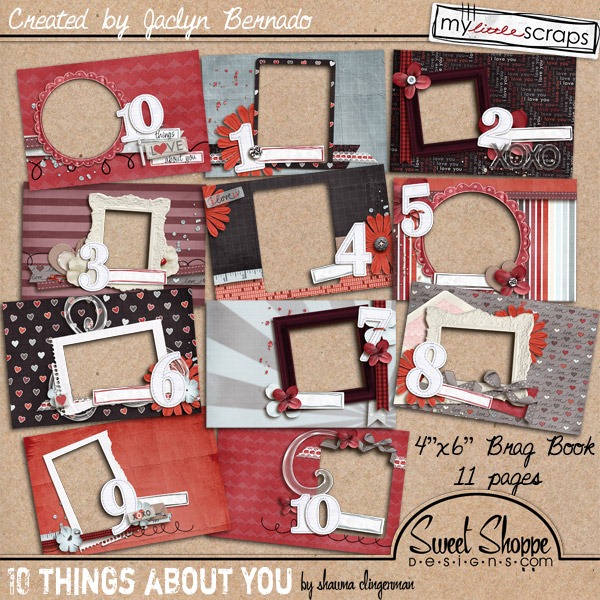 It's themed 10 things I love about you, and it is a super dooper quick and easy book to print out and give as a gift (or keep for yourself!) The layouts are all 4 by 6 photo sized so they will be easy to get printed! This is the first quick book product I've had in my store, and I couldn't have asked for a better one, it is absolutely lovely!
One of my hybrid girls, Leigh, went above and beyond, and put together this beautiful sample book with only a day's notice:
seriously, this book is killing me! Suddenly I'm feeling the urge to make something crafty – who's with me!?! Ten Things About You is the perfect starting point for your first hybrid project don't you think??
And so for my last winning comment…
Comment number 17, Jennifer! I'll be sending you a coupon for this quick book in the store!
Whew, so there you have it! I'm ready to put my feet up now, pour a glass of wine, and do some scrapping (not nessesarily in that order though because I doubt I can pour a glass of wine after the feet are elevated… Sometimes in these winner posts I think I should just say something completely crazy and random… just to see if anyone's listening…)
Have a happy weekend everyone!