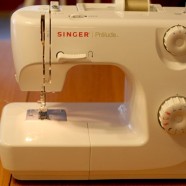 I know I've been quiet, but I've just been busy!  Not the usual type of busy though, I haven't been working a lot or chasing my tail with the house and the scheduling and all that craziness.  I've been busy in a different way – I've been hanging out with the family, going to MOMS Club – I've been spending more time at the gym, doing a lot of running and walking, I've even been been painting my nails!  So I guess you can say that instead of the usual grind I've sort of taken on the full time job of just being me.  It's a nice feeling and not something that I have ever really been able to embrace, so I'm just holding on to that for as long as I can!
Ofcourse, I can't actually survive any amount of time with out some sort of a creative outlet!  Part of being me is making stuff, that's just one of my perks (or should I say quirks? It depends on the day LOL).  This past month is no different, although I've been creating in a different way.  I have definitely been getting a taste for making actual tangible crafts, although I'm not ever going to abandon my love for digi, it has been super fun to just start filling my house a bit with some shawna-style – I've made a lot of things I'm really pretty proud of, but today I'm just going to show you my new love.
Meet my new best friend: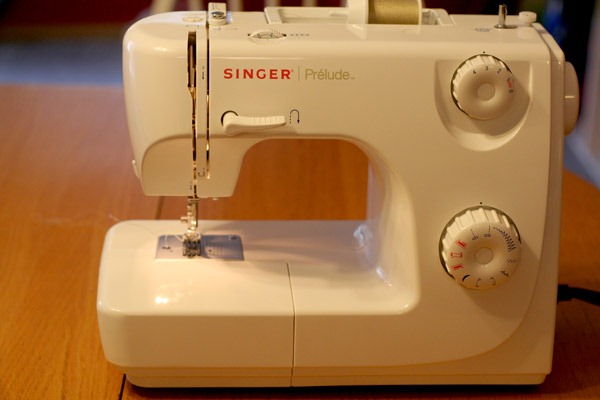 This beauty I got at a garage sale in mid June – I've always dreamed of having a sewing machine and learning the ropes so when I saw this in its box and only gently used for $50 I really had no choice but to get it! (and actually I ended up getting it for $40!)
Then home I came to google and read and then just dive in head first into a whole new dimension of crafting. Oh my goodness, is this a whole new world!  I feel like I've discovered America or something over here – the possibilities are endless!!
Because I'm cheap, my first project had to consist of fabric I already had laying around the house – and I found the perfect candidate – Reece's old baby blankets that had been packed away in a closet and that the kid still talks about!  We took them away because it was an issue the whole baby blanket thing, and he needed a nudge toward being a big kid, so when I saw them sitting up there I knew exactly what to do!!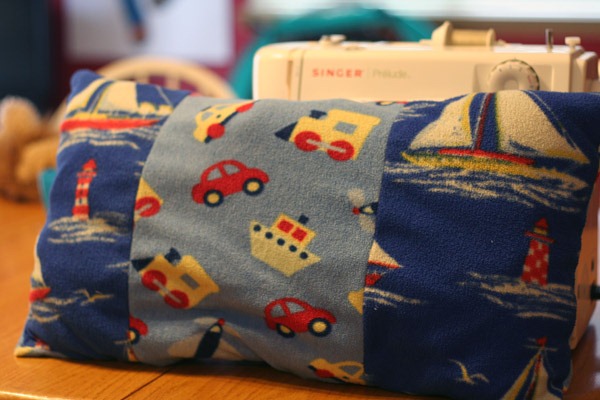 I very boldly and maybe a bit impulsively cut it up and started sewing – it's a simple concept so just diving in with out a pattern or directions was totally doable!  I can't even tell you too how much Reece loves it!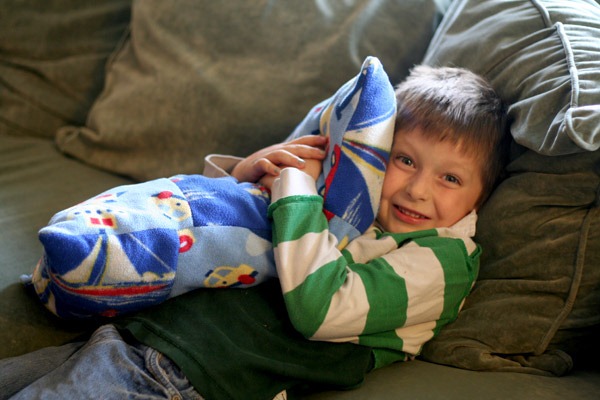 I'm cheap, so although I was already addicted, I didn't want to go buy actual fabric yet! It is spendy! And I'm just starting so the idea of spending loads of $ on this just didn't seem like a practical thing to do, so inorder to save all the soft goods in my home from getting snipped up and turned into pillows – instead I drove over to the goodwill outlet and for $1.25 a pound I picked up a whole cartload of pretty things to chop up!
Even when I do get "serious" and start making super nice things I may stick with the whole upcycling old clothes/sheets/etc because it is I get an extra thrill from making something new out of something old!
Speaking of upcycling – I found a zillion sites that mentioned this cool concept of making bags out of old t-shirts, it was another great first project because t-shirts are easy to find and the design is really simple!  Here is a tutorial that helped me just to give you an idea of how I did it.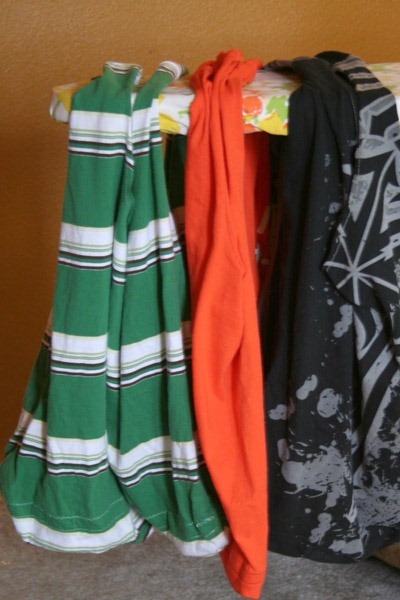 Each of the older boys have one now, and they have been loving them!  I tried two different ways of doing it and I'm really still not even sure which one I like more:
Bottom stitched sidways or the Bottom stitched with the shirt laying flat: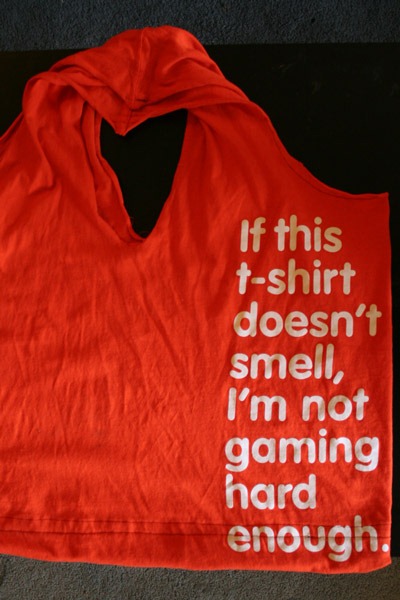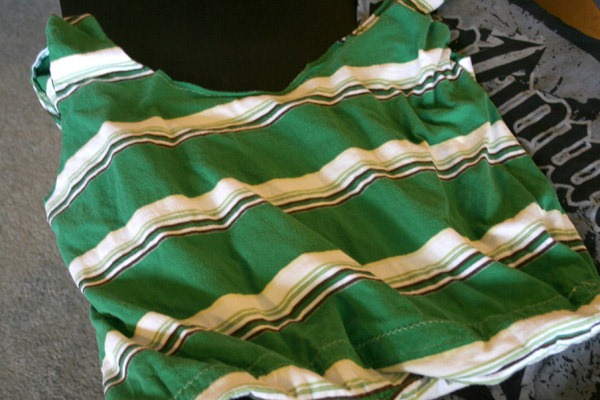 Such a fun and addicting project, I just cut out the sleeves (leaving that seam to add some durability) and then cut out the top part by doing a deep u around the collar.  The bottoms I turned up and sewed a few times for more reinforcement.  The boys have been using them for swimming lessons and they've been just perfect!  I made these ones out of extra large shirts and that might be something I change next time just because these are HUGE and super wide, a few more narrow ones might be nice too.  Seriously SO easy and so fun because you can whip these puppies up in no time flat!
The next project I took on is using a big sheet to sew some pillows for the living room! I've been wanting to add some pops of red in the livingroom and I've been eyeing red throw pillows but man are they pricey!  These ones only cost me a few dollars tops and they turned out exactly how I envisioned them!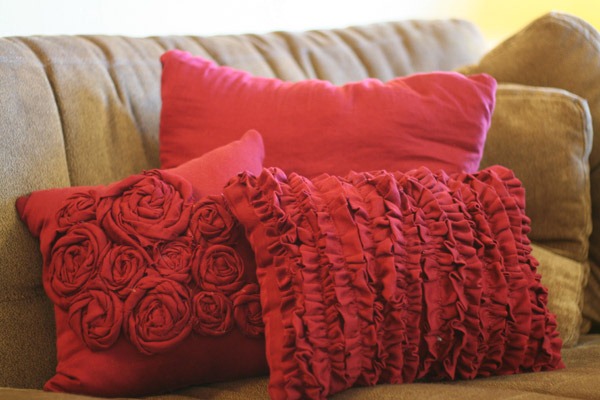 I made the ruffle one first, man was that fun to make, I love those ruffles!!  My boys aren't going to know what hit them when I start adding ruffles to everything in site!!  Then some rolled flowers, and I made three plain ones to toss here and there too! I somewhat winged it on these but not with out loads of help, here is a great ruffle tutorial and here is the basic design I used on the simple ones.
As I was making my pretty pillows I got a lot of use out of my ironing board – but dude, that thing had an ugly cover!!  It also didn't stay in place very well!  Come on now, who's idea was it anyway to put those dumb strings in ironing pads instead of a good strong strip of elastic?!
I had picked up a sheet at goodwill that I absolutely adored but that I had not figured out what to use it for, so I traced my old ucky cover, then added an inch or so and sewed the edges with room for the elastic. After that all I had to do is thread the elastic and sew the ends. Presto – simple yet wonderful new ironing board! Yay!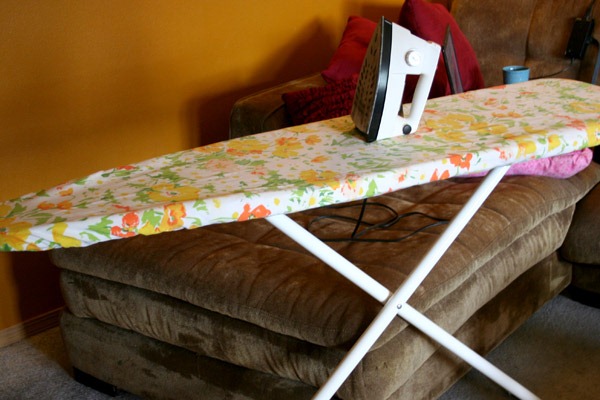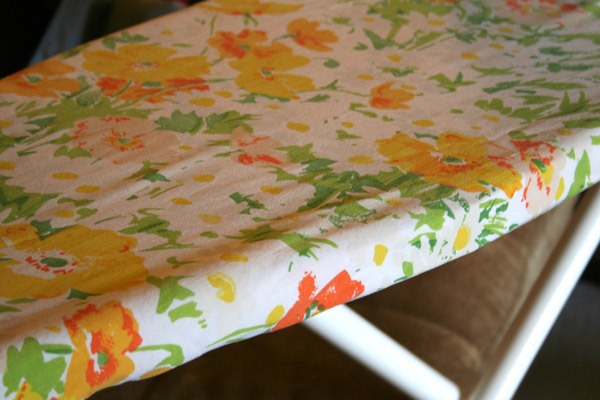 See why I fell inlove with that sheet!?
After that project I scoured the web for my next idea, and when I saw one of these it was so obvious! My camera needed a strap cover!
This is a super simple pattern that I basically did on my own, cut two strips, put faces together, sew the edges and then turn that puppy right side out and squeeze it onto my current strap! I went ahead and sewed it onto the strap at each edge to keep it in place – When it was done, I decided it needed one finishing touch – so it got a pretty bow (tied around the strap and then hand stitched securely to keep it tied and in place!
This picture does not do it justice since I had to use my phone seeing as the strap is actually on my camera, but this is what it looks like now: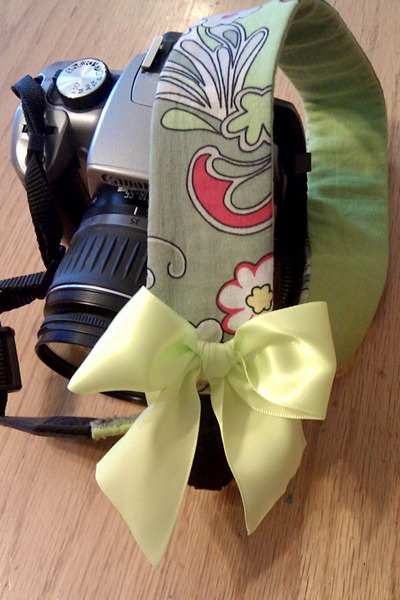 I took a close up with my camera too so you can see how pretty this fabric actually is! (one goodwill fabric remnant and then a pretty shirt that had seen better days!)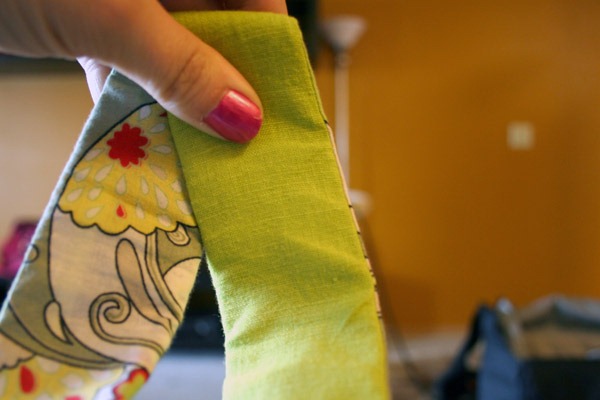 Yay! I'm so loving this whole sewing thing!  I think one of the best parts too is that these projects are actually a way that I can make some stuff just for ME – I've never really put a lot of time into those sorts of crafts and my little self is enjoying being spoiled!
I'll have to come back and share the other things I've been up to but as for now I'm having withdrawal and I need to get back to sewing asap!!
Thanks for letting me show off a little over here!
Read More