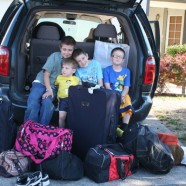 Well, this post is sure to be a doozy, but these past few weeks have been a doozy so it can't be helped!!
The Clingerman family has spent the last 14 days on the on the open road, really, we all loaded up all the boys, back packs filled with various supplies and hit the road from here in Washington all the way to see g's family in Pennsylvania!
On the way there we took only 3 1/2 days to get there – it is a 2700 mile trip so we had to push through pretty much driving non stop! One night we found a late night hotel room but the other two we drove through the night.  You wouldn't believe how great the kids were for us, two nights of sleeping in the car would make anyone grumpy and I can't say no one got growly but those kids hung in there and didn't completely lose it on us!
Here we are day 1 all ready to roll: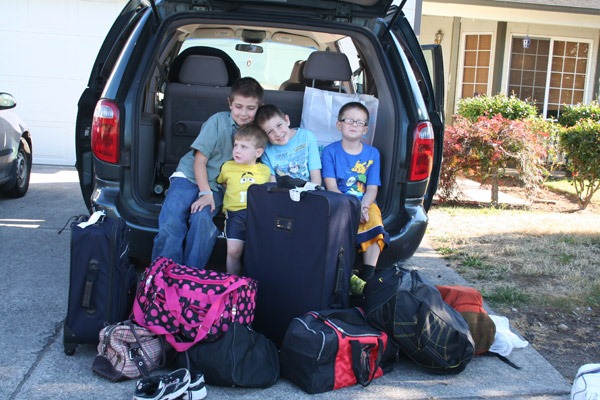 We tried to be ready with loads of supplies to occupy their bored little brains. Each of them had a backpack loaded up with things to do – sketchbooks, notebooks, crayons, markers, pipe cleaners, post its, pretty much everything.  I also put together little books with maps for each state we were in and the route we would take – turns out this idea was much cooler to me than it was to the kids, but I used it a ton so it wasn't all for naught!  The kids each had electronics too, gameboys/ds plus a zune for each of them that dad had loaded up with pokeymon videos to watch!  All of this + 800 million potty stops a day seemed to fill their time pretty well!
Here the kids are at day 2 (a rest stop somewhere in Utah I think):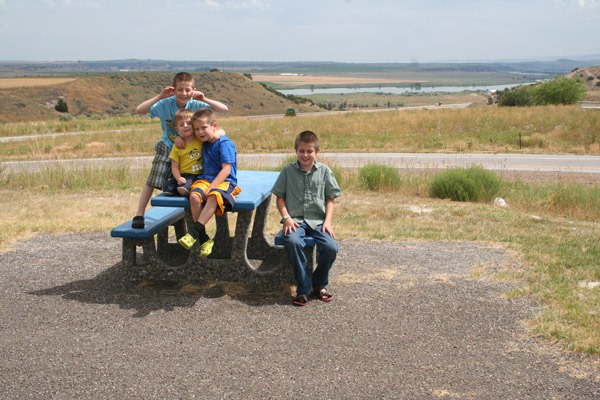 the night of day 2 we stopped for a late night rest at a hotel in somewhere in Nebraska, so here we are to start day three (yay for fresh clothes and clean teeth!):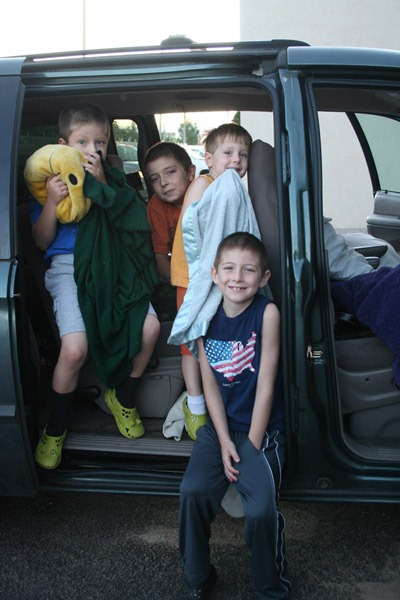 That night we drove all the way through the night and we rolled into our hotel in Pennsylvania the next afternoon.
Once we got there, we had loads of visiting to do!  G's little sister was getting married that weekend, so there were loads of wedding-ish things to go to.  In addition to that, it G's has a huge and warm family to visit.  It has been 7 years since we've been able to make the visit, and the kids had 3 new cousins to meet!
Cousin Derek (he's 5):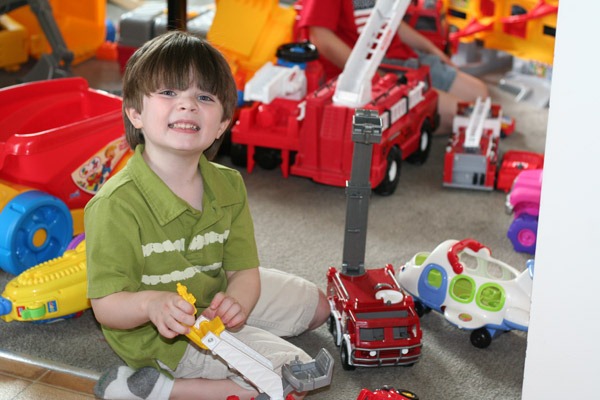 and 2 year old twin cousins: Kayla and Mason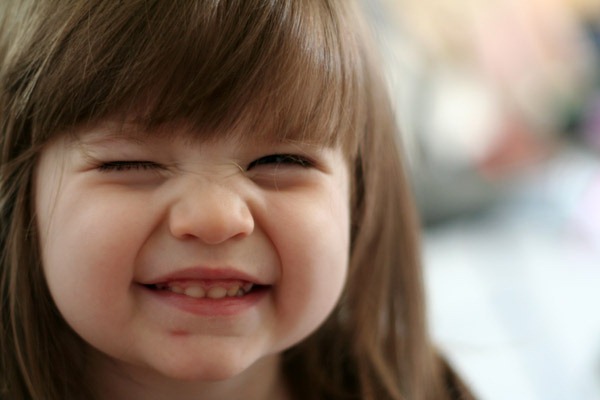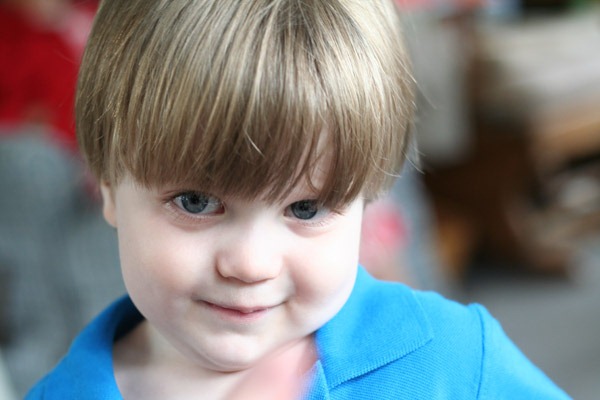 YES, these children all belong to the same parents, G's sister and her husband are saints, what a challenge it is I'm sure to have TWO 2 year olds and a preschooler. They are amazing parents, and wonderful kids!
We squeezed as much cousin-bonding time as we could: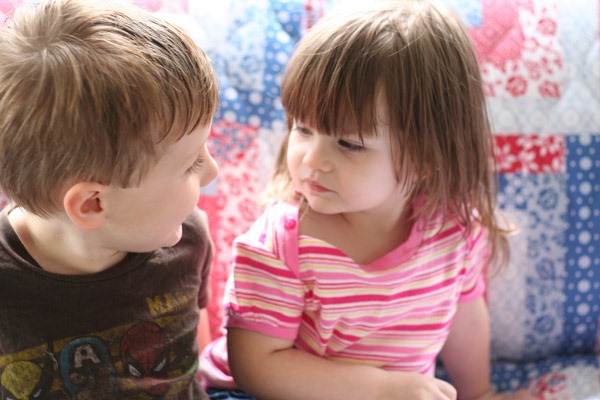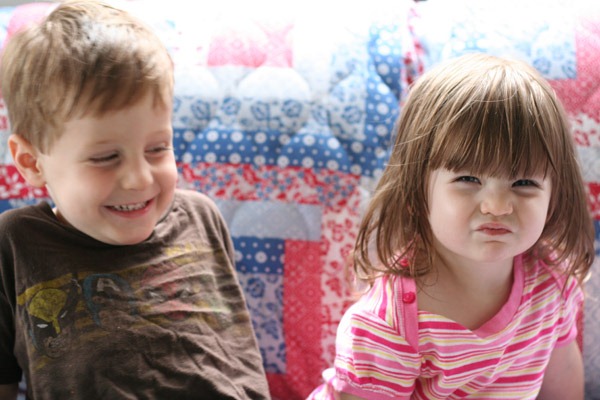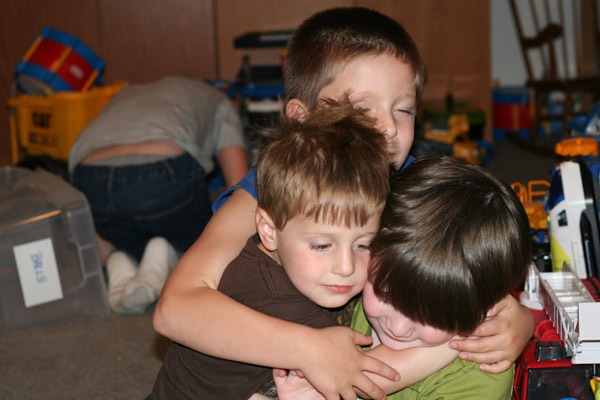 There was even an impromptu cousin-concert put on for the parents: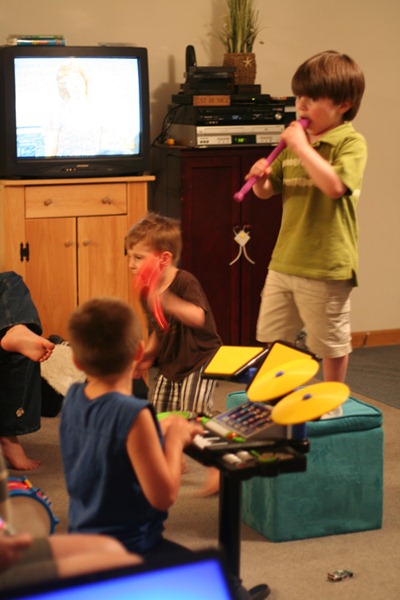 Tried to get a pic of them all together, this is the best we could do!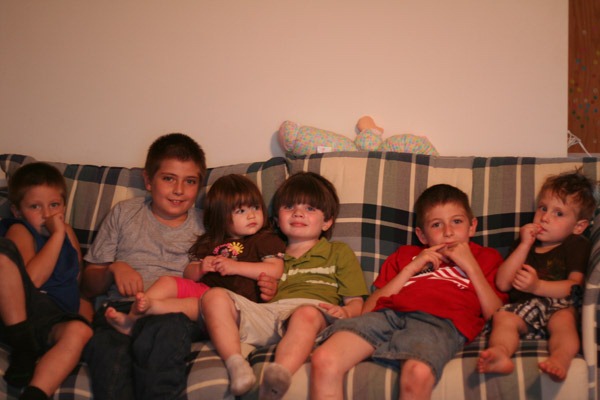 We also spent an afternoon visiting g's grandmother (aka "mom-mom") and his dad's side of the family- the whole family lives in the same little farm town so Sundays at mom-mom's is a long-standing family tradition.  G's grandmother is getting older, so the fact that we got to spend some time with her was pretty meaningful to him: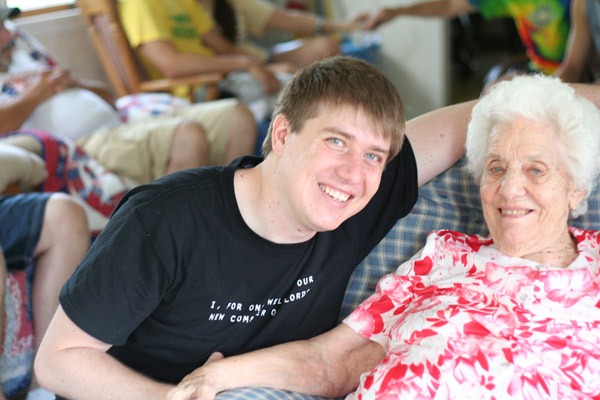 Every time I get the chance to spend time with g's family I'm reminded of what wonderful down to earth and fun people he comes from, this visit was no exception when g's grown brother pulled out the water balloons and squirt guns! Grown siblings, cousins, uncles and the kids alike all got involved in a massive family water fight!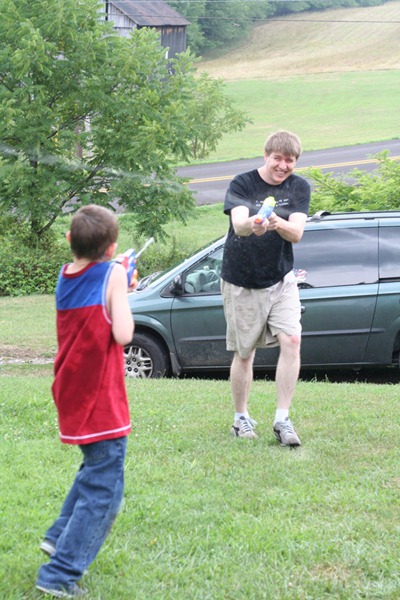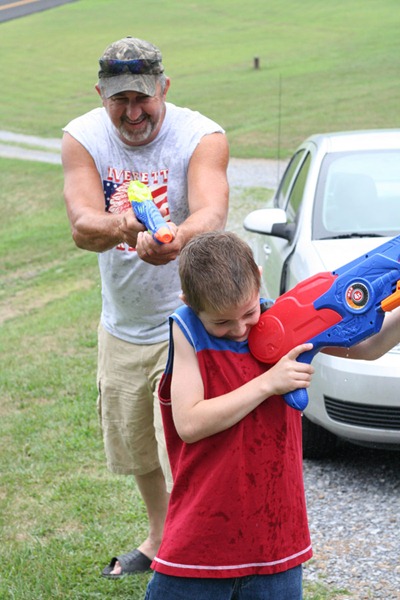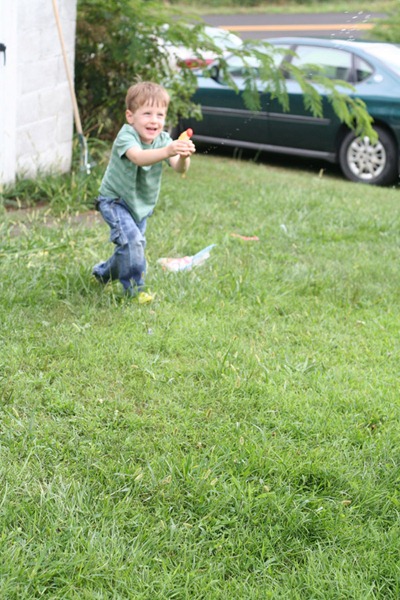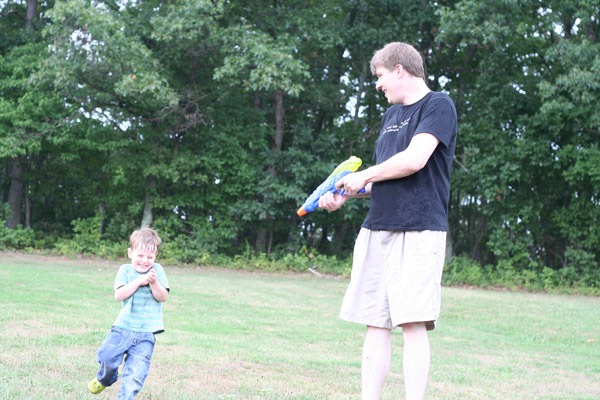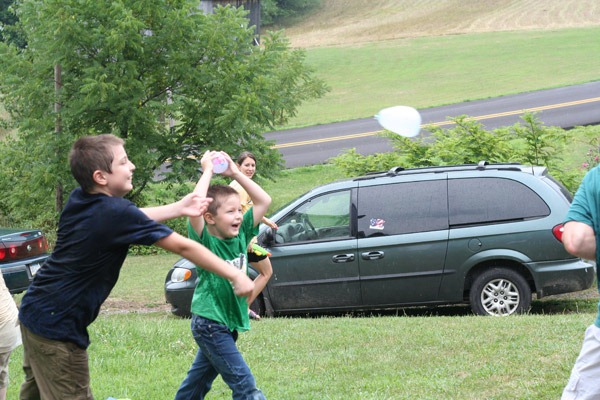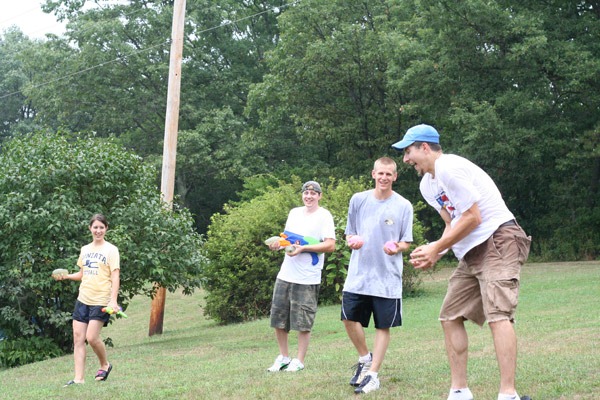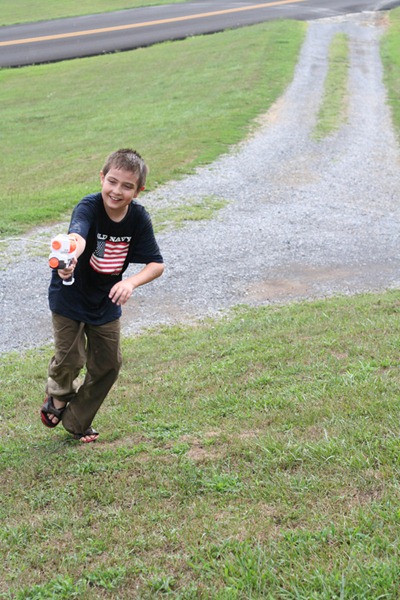 The kids seriously had SO much fun!  G's cousins were so great with them too, running, tickling, joking, wrestling – the kids all really enjoyed their time with this fun, big family: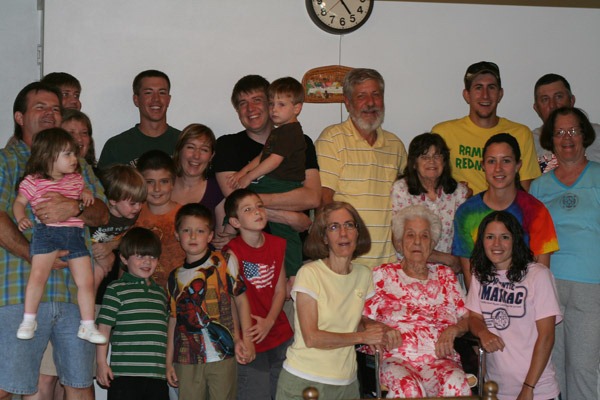 The main event of course was the wedding, here are the boys with Aunt Becky at the rehearsal dinner (bummed that it ended up being blurry!):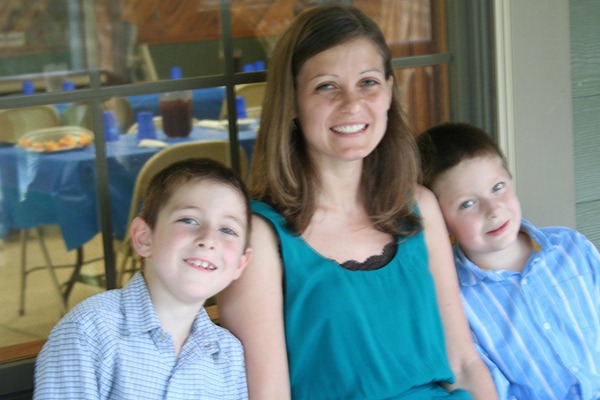 And my boys all adorable and dressed for the dinner:
G's sister had not one, but THREE children that were part of the ceremony plus she was a brides' maid, she did awesome juggling all the little ones that weekend and deserves a spa trip right about now!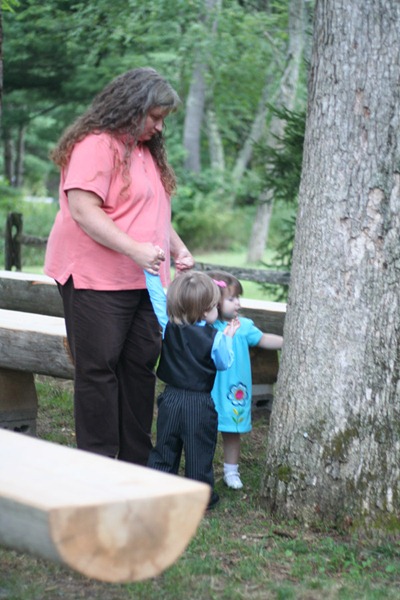 Wedding day everyone looked adorable! I'm so proud of my boys who actually took an active interest in shopping for fancy outfits – each of them picked out something that really fit their personalities I think.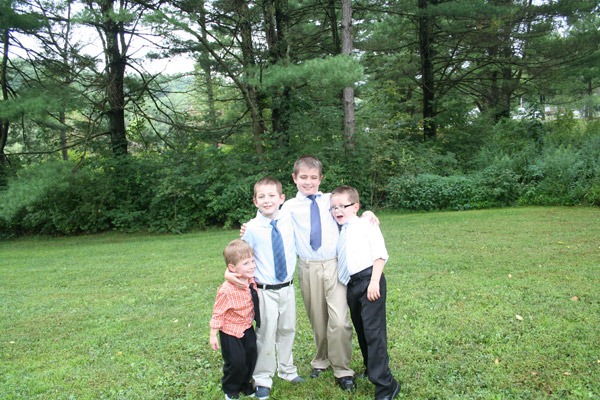 Funny story, Reecey picked out those black pants and that white shirt and REALLY didn't approve of the choice, he basically had to BEG me to let him try it on, when he walked out of the dressing room though, I couldn't deny it, he looked so snazzy!!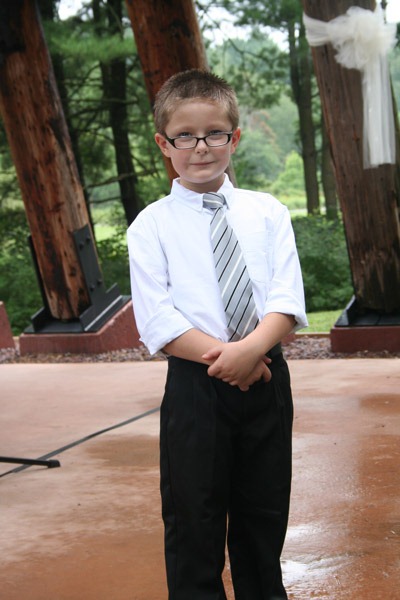 Just further evidence of the fact that my Reece has more style than I ever will!
Some more shots: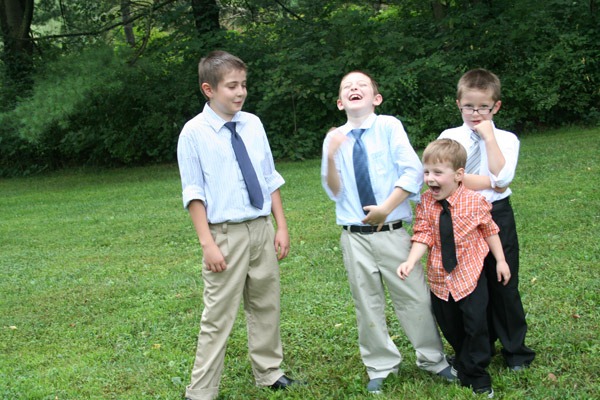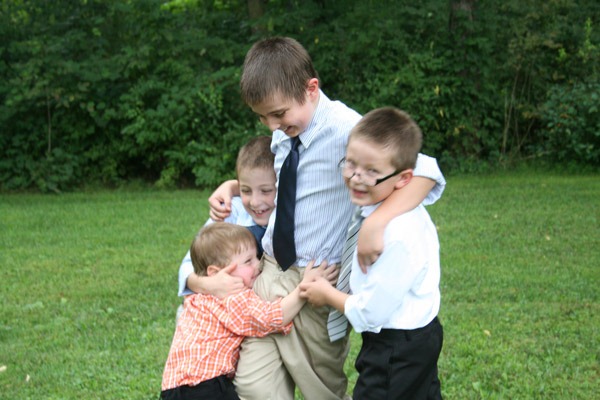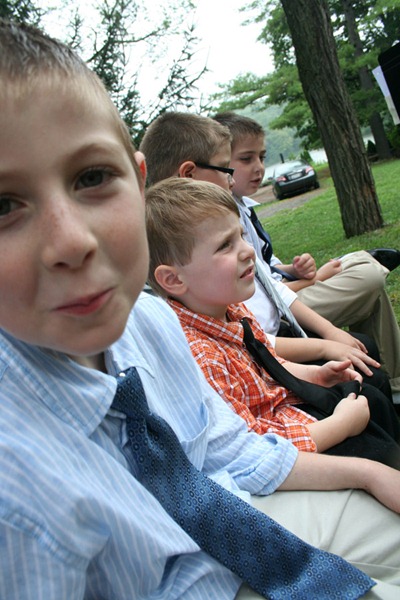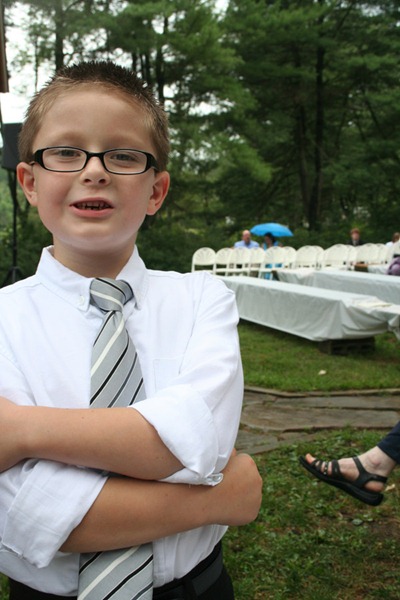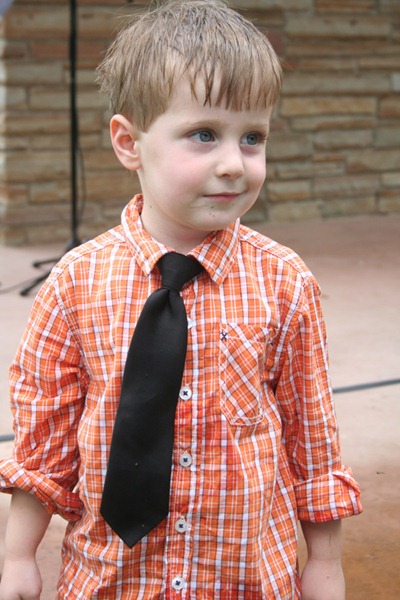 here they are with groomsmen daddy: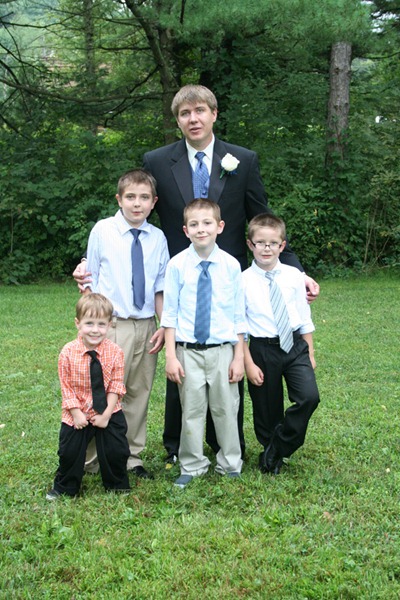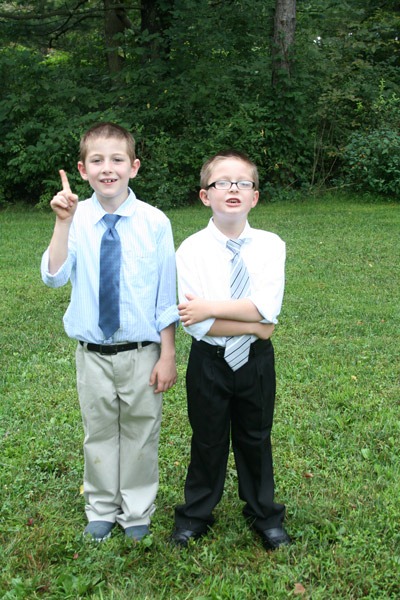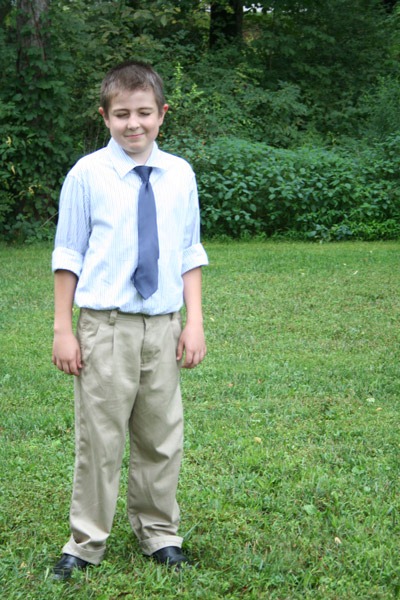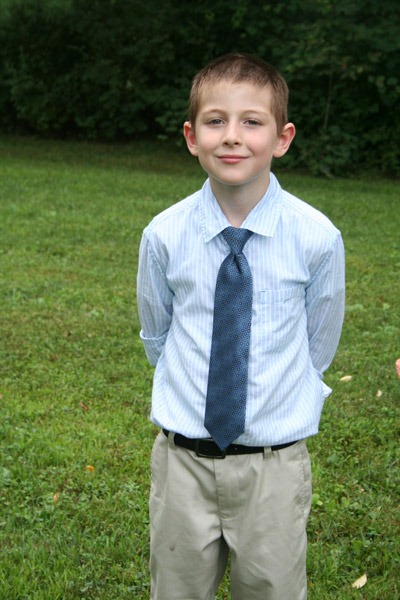 I'm not gonna lie, having four squirmy boys dressed up and required to sit still in the first pew of a wedding was not exactly a stress free time, these photos are adorable but they didn't come with out their cost!! G's relatives all sitting behind us at the ceremony can certainly vouch for me that there was a certain level of chaos going on for us while we waited for it to start – here is a more "real" photo of how my children felt about me by the time we were about to start: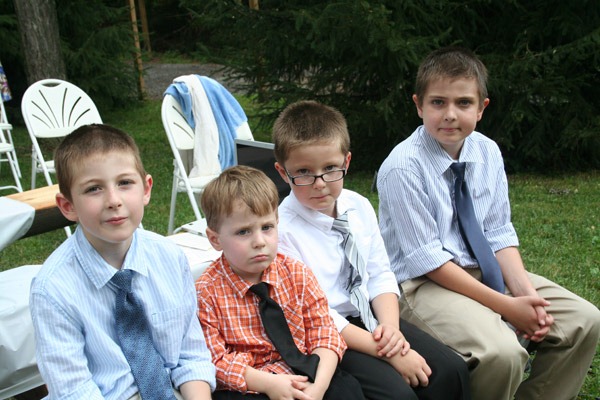 and I guess we should add, here's one of how mom was feeling: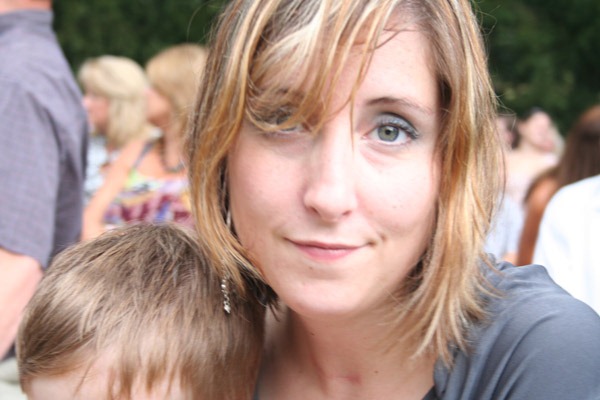 Add to that, this was an outdoor wedding, and apparently we brought a bit of the great northwest with us when it started to RAIN on everyone while we waited!
All in all though, it was a beautiful day with beautiful memories and Becky looked beautiful and the venue she chose (a boy scout camp) was one of the most beautiful wedding spots I've ever seen!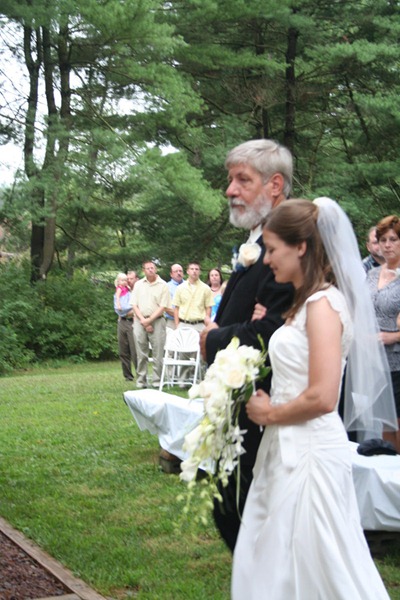 I was too busy keeping the hooligans inline to take any more pictures, but thank goodness Tennyson had mercy on me and fell asleep on my lap! I do love this classic rainy wedding shot from a few minutes after the ceremony: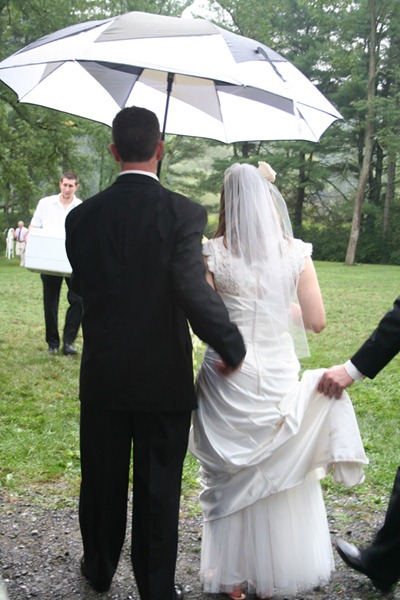 A few days after the wedding, we had the chance to go visit g's parents house, the farm he grew up on.  This was probably one of the biggest highlights for the kids, they were SO excited to go see a real life farm, and it did not disappoint with bales of hay, farm equipment, and wide open fields to wander!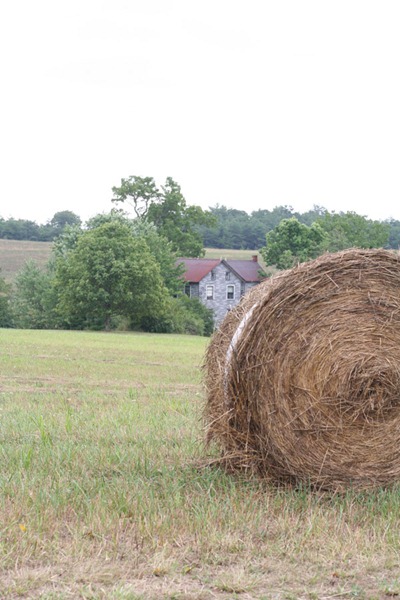 Pappy showed the boys around: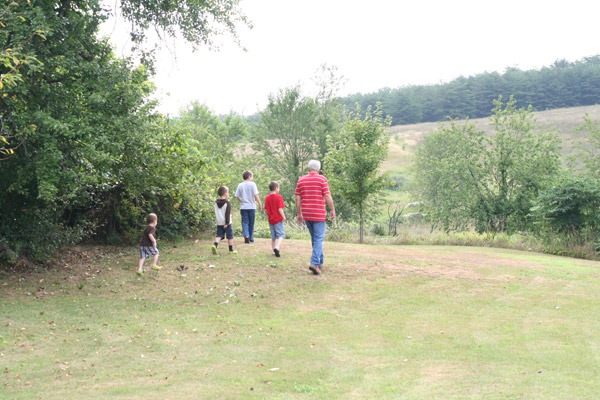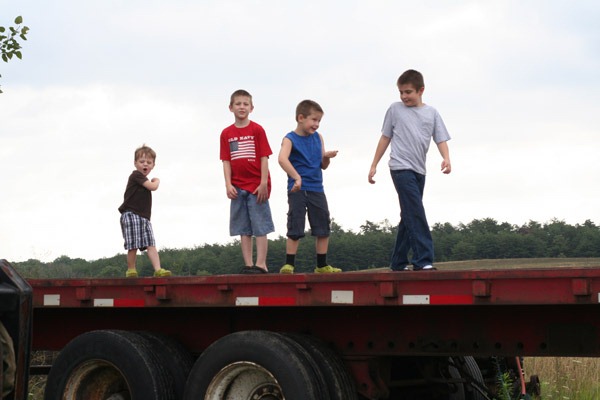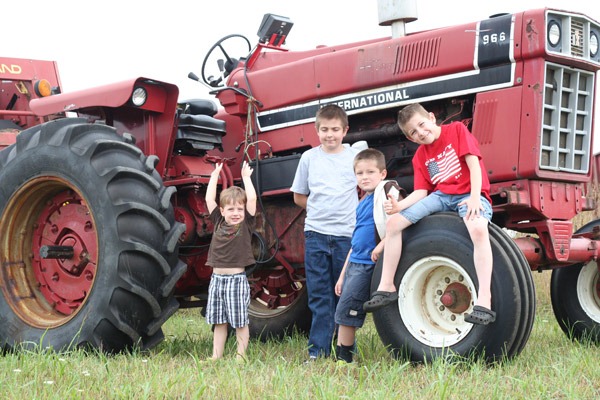 They also got to ride in Pappy's big rig AND took a ride to the end of the drive way in the back of his pickup – pretty much the everything a boy could want!
…besides catching bugs…
oh wait, they got to do that too!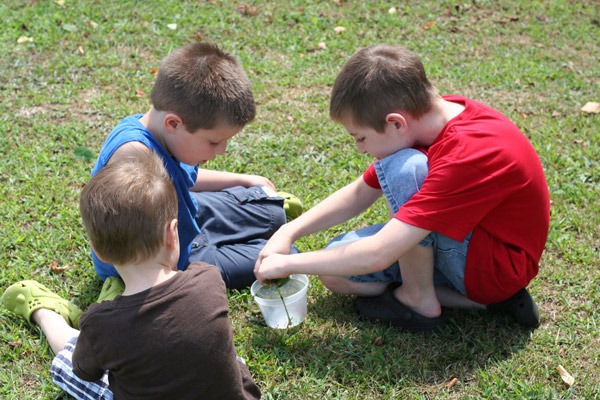 G also brought the boys by his old elementary school, still the school the kids in Clearville go to today: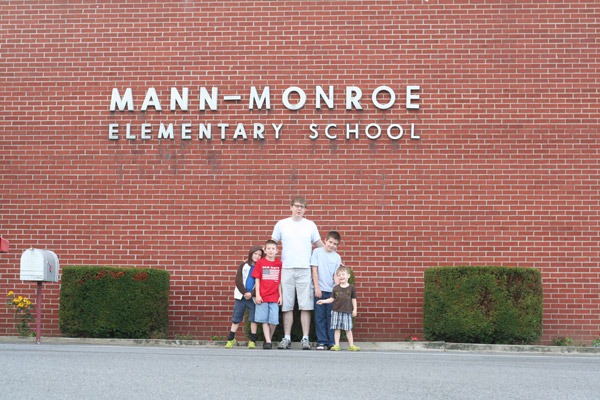 and here is a shot with a view from the school, it totally feels like a perfect "Pennsylvania" photo to me, totally captures the rolling hills and the trees, and that quintessential PA small town feel.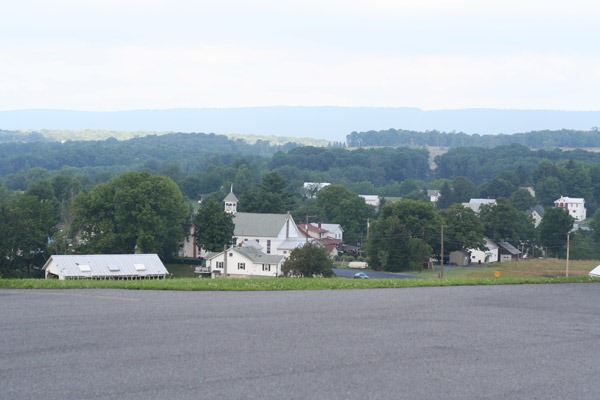 After 5 short days it was time to head back towards home again – we tried to work out our timeline so that we could take a different route and make a few fun stops on the way home.
The boys were sad to go, and made us promise that we would visit more often! We really do hope to be able to!!  At least we had some exciting things planned on the way home so that they could be a little enthusiastic about loading back up to go.
Here we all ready to roll: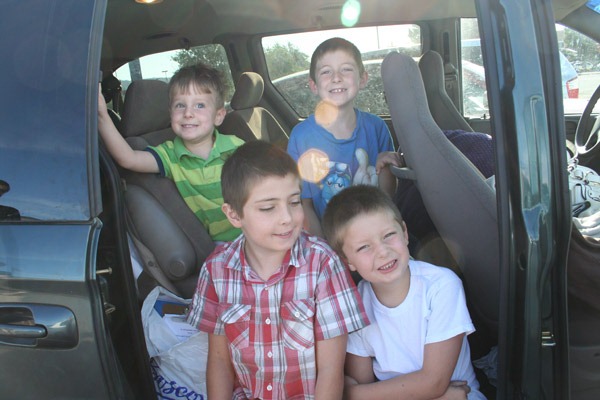 Our first stop on the way home was the Mall of America in Minnesota – g and I are total mall lovers and so this stop seemed like a given!  It was in fact as wonderful as we'd imagined – the lego store being the obvious favorite: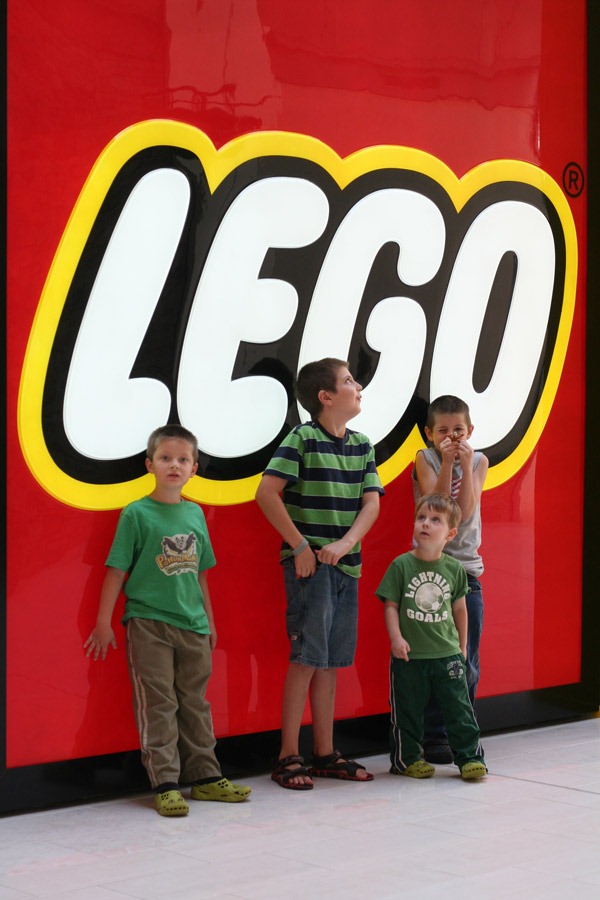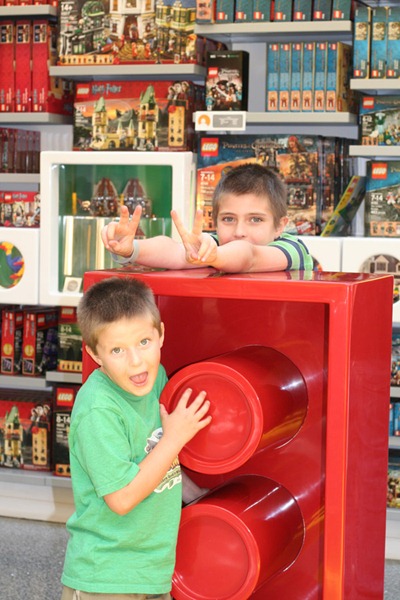 How cool is this?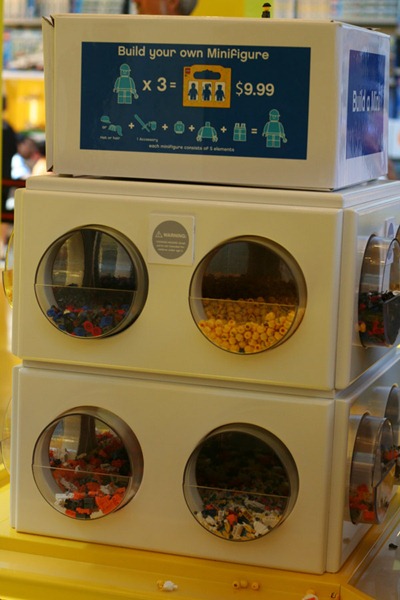 and THIS: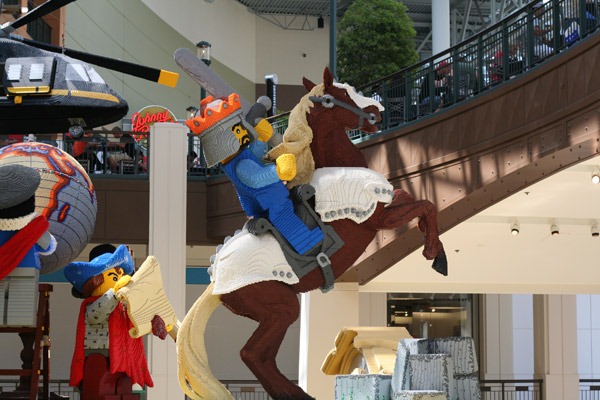 The boys were very impressed too by the amusement park that is in the mall itself: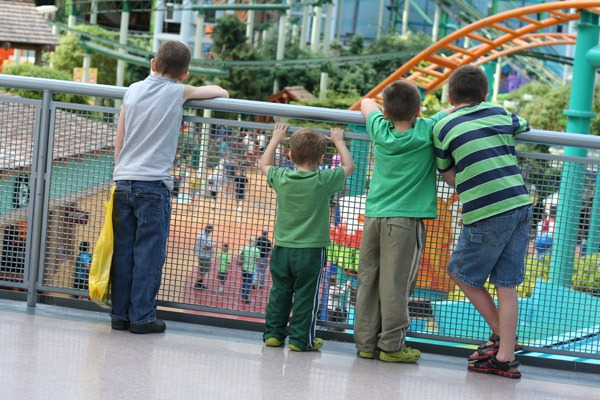 We didn't ride though, we were saving up our adventure planned at a later stop on the way home!
Our second stop on the route home was Mt. Rushmore! I've seen a lot of places in the US, but this monument is one I had yet to see.  It really was incredible, and astonishing to me that someone had the vision to create this HUGE work of art in the side of a mountain.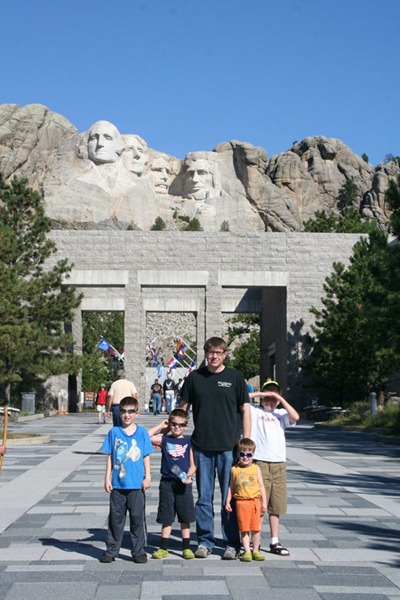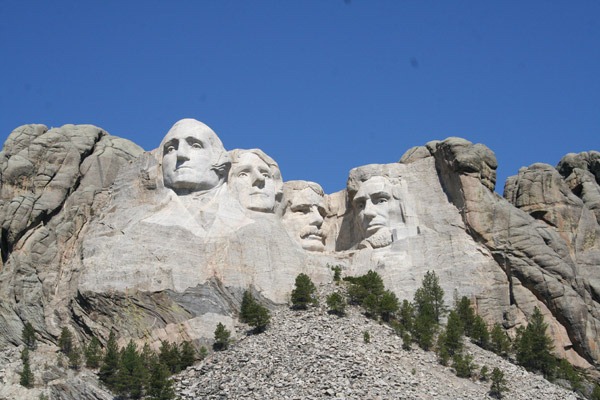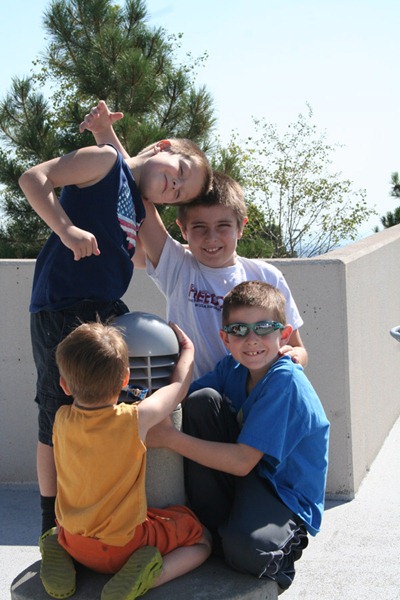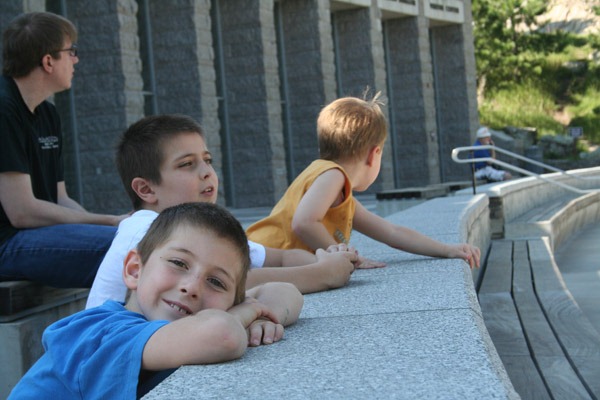 South Dakota really impressed me as  a whole, I just had no idea that it was such a beautiful state! South Dakota and Montana both really took my breath away! I remember seeing the Rockies years ago when I drove across the country through Colorado with my dad – I was sure I'd never see anything so amazing.  But Montana definitely held its own when it came to the seeing the mountains, that whole state was just gorgeous, a terrain I'd never really experienced before. It felt like we were miles above the rest of the world. The drive home was an amazing drive!
Our final stop on the way back home was in Idaho. We took two days to enjoy some family time at a place called Silverwood theme park. It is a theme park and a water park in the same place, and we had no idea what to expect, but it totally exceeded any of our expectations!  I have zero pictures of our time at Silverwood so you'll just have to imagine the boys helping me reach my goal of riding every roller coaster – all of us spinning around on the tilt-a-whirl;  Cotton candy, waffle cones, log rides and magic shows.  Imagine each of us floating along for hours on our own inner tubes through the "lazy river." Frankly I was just having too much fun to be taking pictures! Plus, hauling a big camera around didn't really fit into my agenda of spinning, speeding, swimming and running around!  It was an amazingly fun time, and it is just a really great feeling to be able to do something like that with my kids!
After one last night in idaho we started the 8 hour trek home, and yesterday afternoon we rolled in to our driveway again.  G and Gareth both were so happy to be back home where things were as they should be, and Owen and Tennyson posed for this picture for me: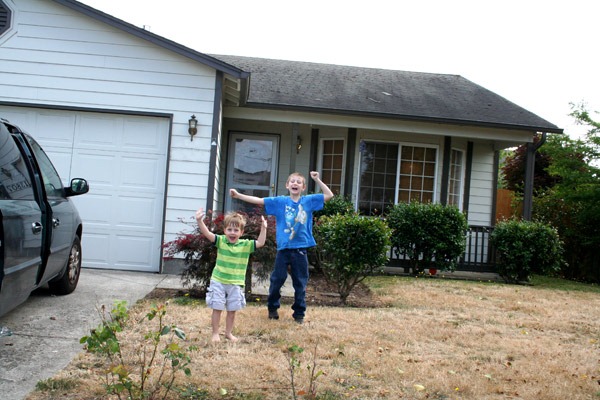 I think all of us are enjoying our own beds, clean clothes and getting to be back with our doggie guster.  But I'm not gonna lie, it was GREAT to get away and I'm a little sad we are back to the grindstone of everyday life.  After we got here Reece stayed in his seat in the car for like 15 minutes – he said his brain wasn't ready to tell his body we were here! I know how you feel my little adventuresome son, I know how you feel.
In the end, it is practically a miracle that we made it there and back with out a hitch! Everyone is in one piece, the house is still standing, and I officially have a new love for my mini van that ticked over to the 99000 mark as we were getting home.  I love that we did this because it marks a whole new level of freedom and possibility for my family (and for me!) – and if I have anything to say about it we will definitely be setting out into the sunset some time again.
Read More