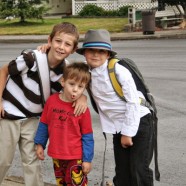 This summer, for the most part, was so nice.  I really actually enjoyed having the kid home a good bit of the time, and I think everyone enjoyed a break from having to be on the go. But man, ever since we came back from vacation, the craziness has been growing.  I know the boys were getting bored, and therefore restless – plus, the weather this summer has sucked!  We ended up spending a LOT of inside time, and even I (100% a rain lover and hater of the heat) missed the sun this year!  So, needless to say, the second half of August had me counting down the days till we could get back to "normal."  I've always been a bit of a free-spirit when it comes to how I spend my time, but over the past 5 years I've really had to buckle down into a routine – otherwise my house, and my sanity suffered. And these past few weeks my sanity may have taken a bit of a beating – So yesterday, the first day of school was really something to celebrate! (too bad I was too busy getting everything ready to go to actually enjoy it!!)
Anyway, here we are and guess who is a middle-schooler now: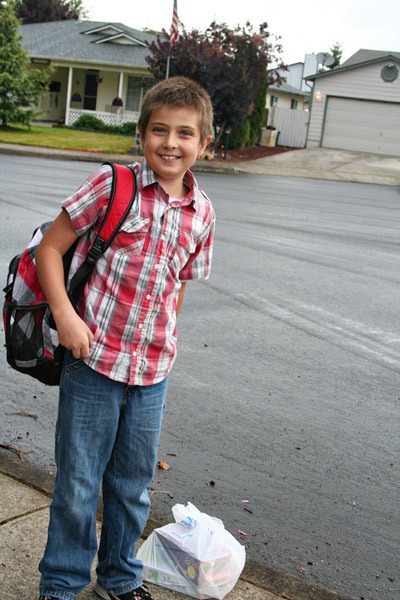 My little man, is not so little anymore – apparently he has decided to continue getting older – and although he is certainly the best 6th grader in the universe, I am finding it a bit hard to wrap my mind around this next step of life!
Up until now, I've really excited right along with the boys as they get older and I mean, it is amazing to see them grow and change and become the person they were meant to be.  Gareth especially has always been so capable – I know he is totally 100% ready for this next chapter.  But goodness, mom can't help but feeling a bit of anxiety!! MIDDLE SCHOOL!! What a crazy, chaotic and totally defining time in life!  Gareth was so happy to get on that new bus yesterday morning, absolutely zero nerves, and he had an awesome day, but I would be lying if I said my stomach wasn't tied in a few knots! I know I will certainly get used to it, and I am SO proud of the kid that I am sending out the door each morning! It is exciting… really… now I've just gotta let it sink in.
Here he is with the littlest bro – who was adamant about being in every picture: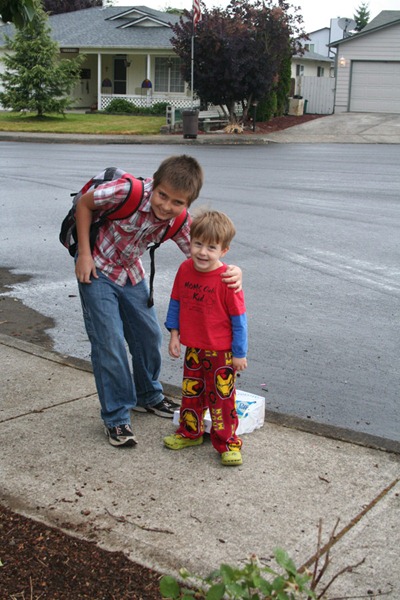 Can't you totally tell how excited he is???  He was totally cute and on the ball ready to go by 7am, and he walked to the bus with so much confidence.  I love Gareth for his solid, prepared self – he has this quiet self-assuredness that always puts my mind at ease, and yesterday morning was no exception.
The other two boys go to school later than Gareth now – so they didn't have to get out the door until later.  Here they are, all ready for 2nd and 3rd grade (No idea what T is doing with the whole tongue thing here. We all have come to accept that Tennyson is often doing something in his own little world!):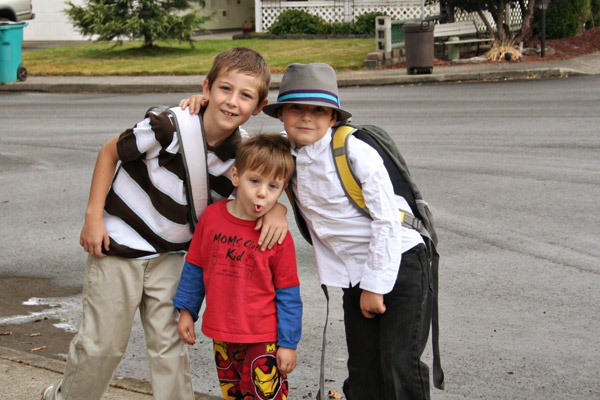 I loved seeing what they each picked out to wear on the first day, we haven't gone formally "back to school" clothes shopping because I like to wait for labor day, but i did let them each pick one item out to wear for the first day.  Owen went with a classic striped polo (I love wearing stripes mom, the are just so me.)  Reece, never to be subtle, was completely uninspired by all the shirt choices, but he WAS beyond excited when we saw this hat!  Gotta love their little personalities shining through!!!  I'm really proud of the way my kids are all so uniquely them – it's a good way to go through life I think.  They were both totally happy to be going back, probably they needed a break from me as much as I did from them LOL!!
I asked each boy to give me a photo that said how they feel about going back to school: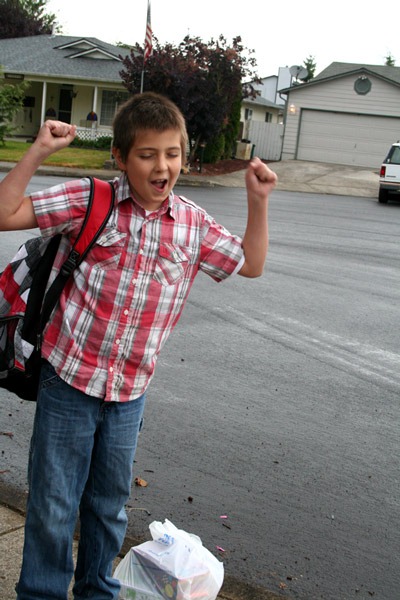 Gareth's excitement.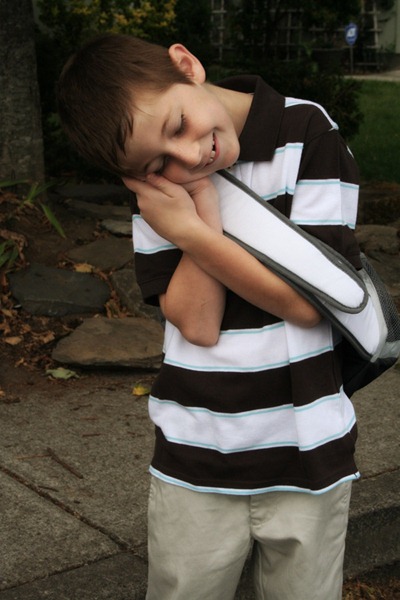 Owen, not really a morning person, decided to go for tired (but he was really excited, you can tell).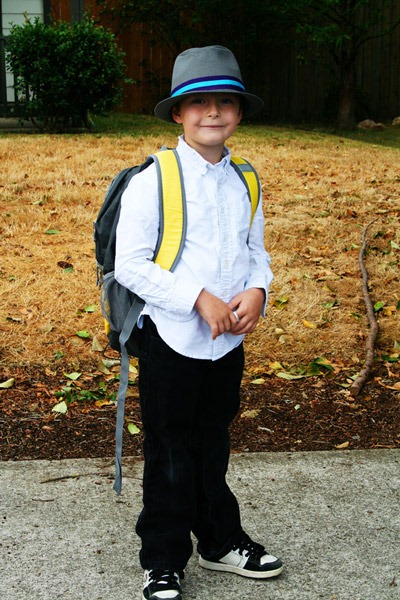 Reecey was rather reserved, I think he was actually a bit nervous, but he assured me he was excited too!
Then there is our poor Tennyson: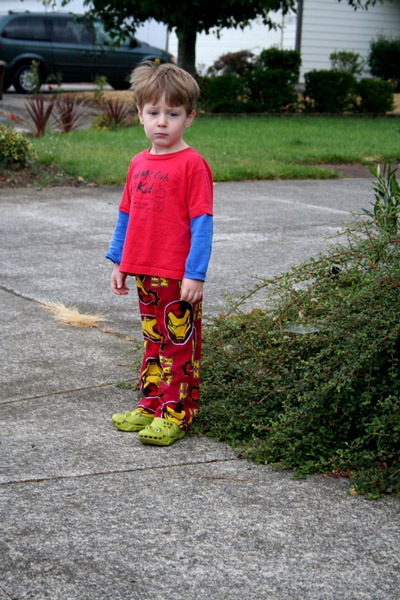 He was sad to see everyone go – but he got over it quickly with some Sesame Street, followed by bringing out his toy drum and yelling, "it's drumming time! Now you have to sing with me!"  After that I think he decided everything was going to be ok. :)
Aside from my middle-school nerves, it was ok, and it felt really indulgent to be able to sit down and design for while with out even one brother fight errupting! And although this week has been crazy stressful, I know it is all going to pay off when we get our routine back.  Now its day two, and I can sit down with my cup of coffee – and all is once again as it should be.
Read More