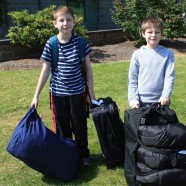 It was a big morning at the Clingerman house! Son numbers 2 and 3 went away to their first time at SUMMER CAMP!  I knew Reece was just totally cut out for summer camp, loads of people, fun, energy, but Owen took me by surprise by abandoning his "not a joiner" status and wanting to go too!
They stay over night 3 nights, and I've never sent them away anywhere but the grandparents overnight so I'm a bit overwhelmed with nerves – but I remember going to church camp when I was their age, and I have some of the most amazing memories of it!! So I'm just trusting that it will be a really positive thing in their summers!
Here are some shots from this morning when I dropped them off and they loaded up on the big yellow bus to head to camp.
So now I just hang tight for 4 days, and enjoy the little bit of extra quiet and space as I wait to hear first hand from then exactly how much fun they had!
Read More