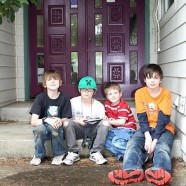 It seems fitting to post again on the bloggy after a while of quiet, because today officially starts a new chapter for the Clingerman family!  In November my always-in-the-know hubby randomly found a listing for a house on craigslist that was super close to us, and had 7 bedrooms! As a big family we are always sorta eyeing houses with more thank 5 bedrooms because they are pretty hard to find, especially in our price range.  We've always sort of dreamt of a home that has a full basement so there was extra room for romping around and for peace and quiet all at the same time – our cozy home right now is a 3 bedroom house with less than 1200 square feet, and with the boys inching closer and closer toward teen-hood we have really REALLY started to feel the squeeze this past year.  Anyway, the home we found was a short sale, but it was a HUGE house with a price of only 250,000 and so curiosity got the best of us, so g and I hopped in the van and drove the 3/4 mile to the house.
We were instantly in love with it, even just peeking through the windows, we had sort of wondered if there would be like gaping holes in the floor or something, but instead I looked through those windows and saw… well I guess I sorta saw my dreams (sniff, sniff… I'm such a sap!).  We ended up deciding to just call the realtor to see inside the very next day – the house has a full basement so we really did not know what we would find (g was crossing his fingers there was standing water or something in there, just to keep us from doing anything crazy I think) – but we found instead that it was an amazing space, really amazing, that needed a whole lot of cleaning, paint, and random little things. My brave husband decided to make the call to a lender…with in a few days we made an offer (actually under the list price since with short sales those tend to just be random numbers), and that is when we started counting days, and pennies! The house was a short sale, so we were mentally prepared to wait, not to mention that we needed to build a down payment, and QUICK! Anyway…. it is a VERY long story but lets just say it went like this "good news you get the house!", "wait, roadblock, you totally can't have the house", "wait, we can totally handle that! you get the house again!", "oh, bummer, it totally can't happen…" And so on and so forth, for SIX MONTHS!  This was for me was such an emotional rollercoaster, but it was also a continuous lesson in faith.  It was just personally really growing for me to set my sights on something, something so special that I wanted with all my heart, and then just hope and pray for it, and trust that there is a plan for us – and with out a shadow of a doubt, I know there is.
I have been joking that this house is "our baby" because the time and energy and hopes and dreams we have poured into this home over the past six months we probably could have adopted a baby or heck even birthed one! LOL (not that we want a baby, we're pretty set with the human babies we already have)!  So, yesterday after we were handed our key, I cried the tears of a mommy holding her baby for the first time, and then took a zillion pictures, because everyone has been so sweet and supportive and I've really felt the thoughts and prayers of all our friends as we waited this home out.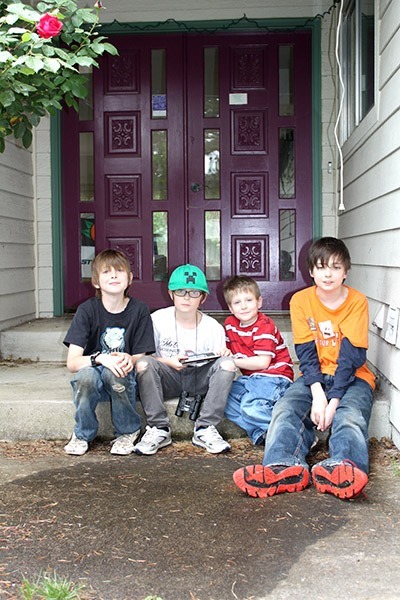 Now, I am very proud to show you the BEFORE pictures of our new house, the biggest project EVER, but our dream come true: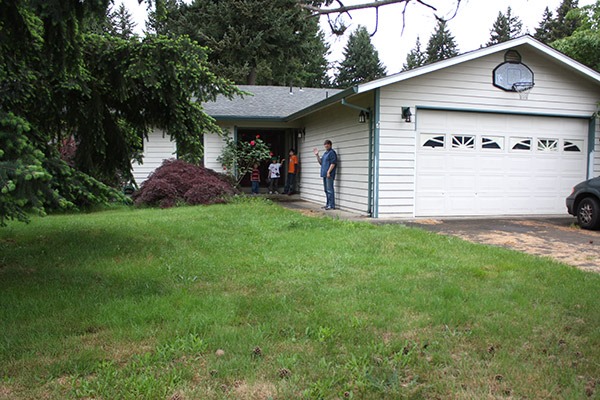 The house is surrounded by huge trees, nestled in the back corner of a cul-de-sac, that is off of a dead end, this house really feels tucked away from the world.
After you step through those beautiful front doors – here is what you see: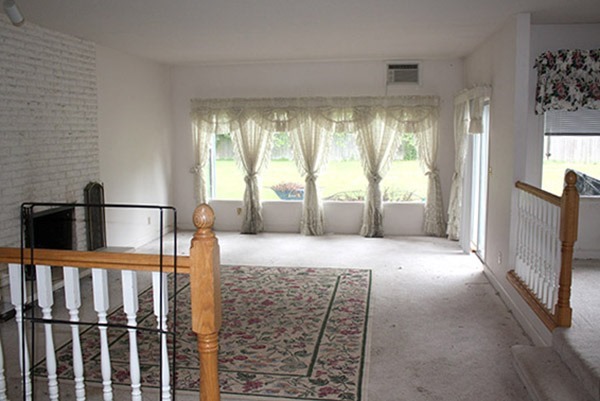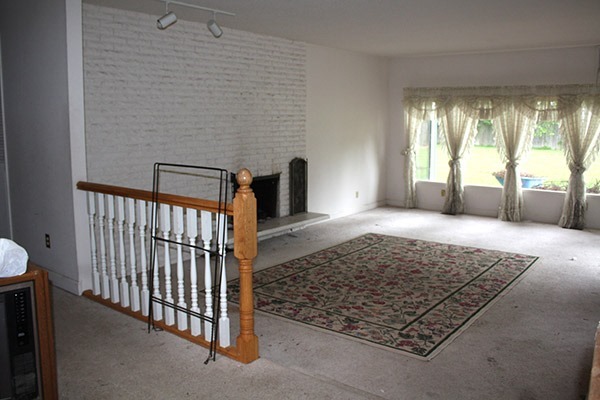 The living room is sunken down a step, I love the banisters and Those AMAZING windows, just begging to be freed from all that lace!
Here is what the little entry area looks like, on the other side of that door is where the door to the stairs is: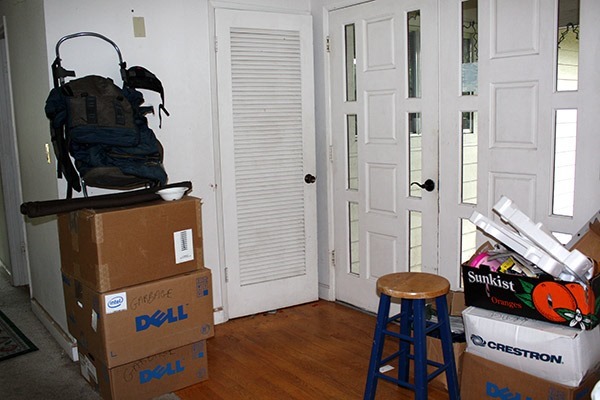 Off the side of the living room is a room that I think is intended to be called the "dining room" but for us it will be a room with instruments (can NOT wait to have a piano to play!), and some cozy chairs by the window to curl up with a book: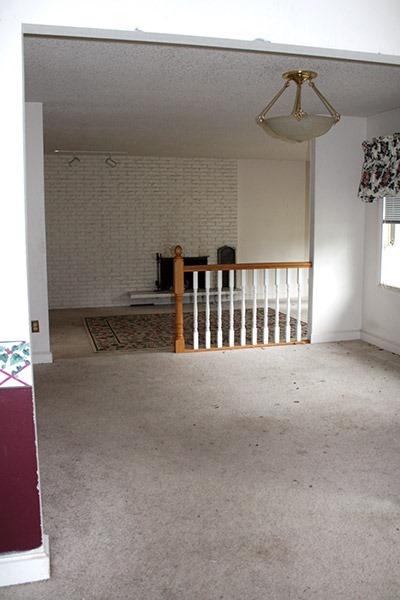 On the other side of the dining room and right down a little hall from the door is a "great room" that will probably hold a big table and some bookshelves: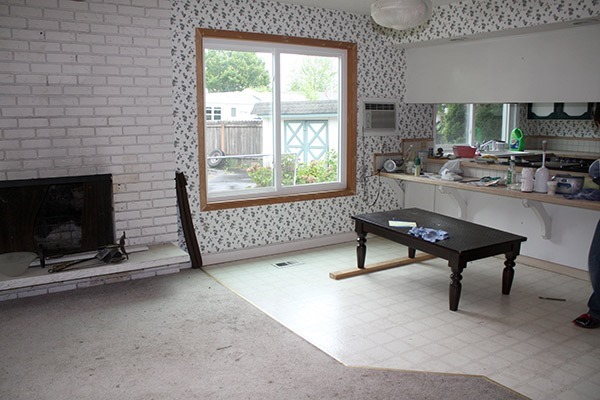 notice fireplace number 2: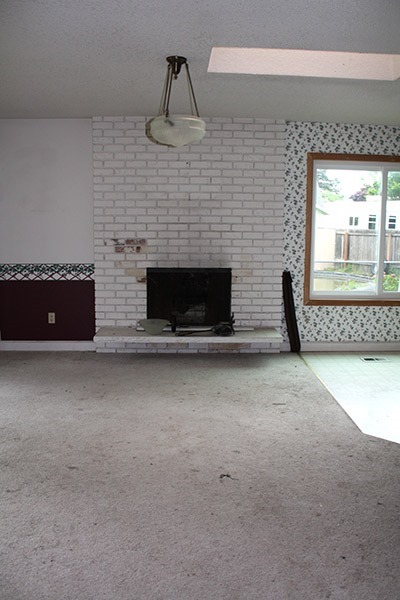 An incredible sliding glass door to the back yard, the windows/doors in this room are super nice and were purchased using one of the three mortgages on this house! Lucky us, we get to keep them with out a loan ourselves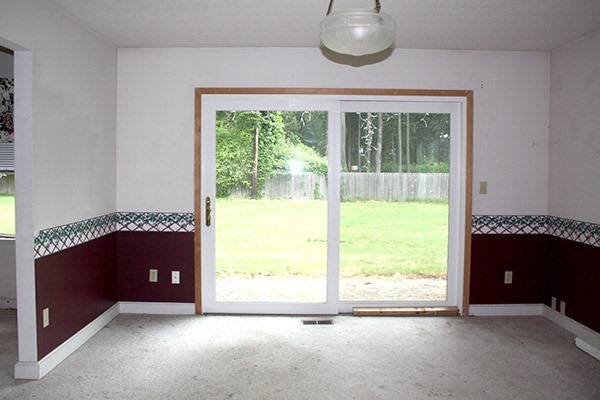 The view from the eating area into the dining and living room: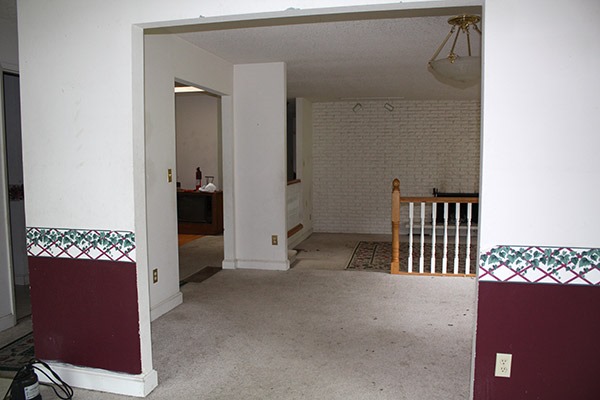 There is a chair-height counter bar off the kitchen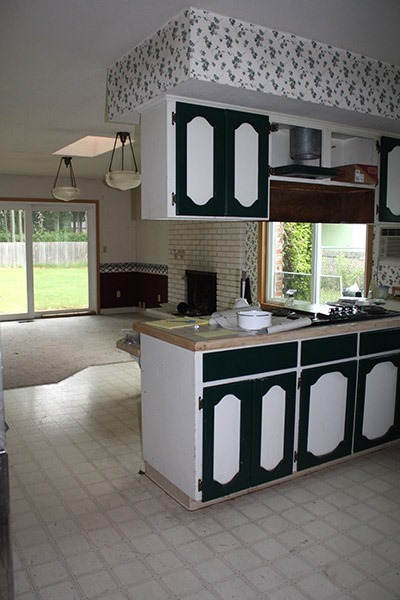 (notice the patchwork floor repair, one of the repairs we had to make to the house ourselves in order to get the loan)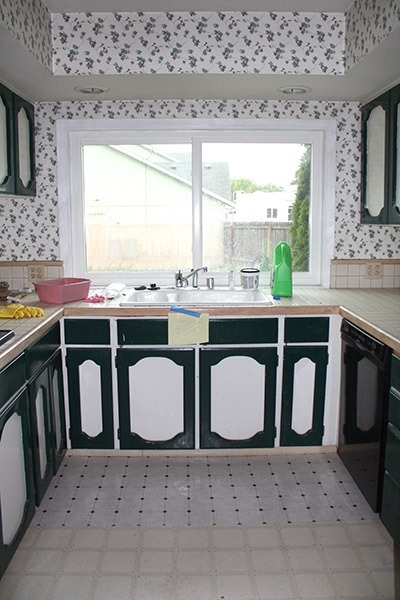 I LOVE that there is a desk built into this kitchen, I've always dreamt of having one!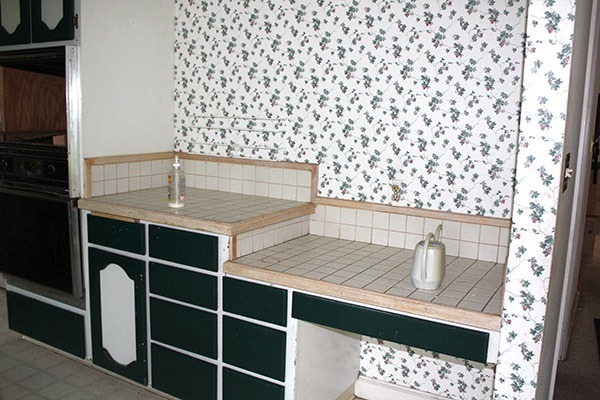 And off the kitchen there is a little laundry room with it's own window: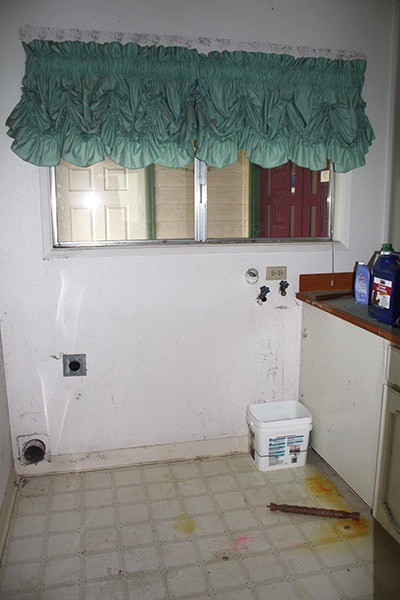 Here is the half bath that is to the right of the entry: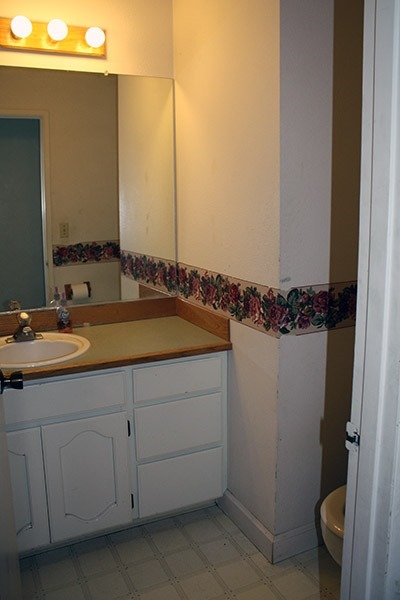 And here is the hallway from to the upstairs bedrooms: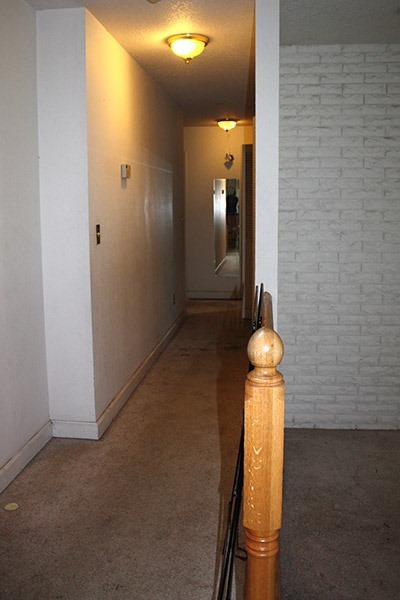 Since this house is massive – there is space for both g and I to have our own office spaces! Since I'm a crafter and he's a computer geek we can actually use the space: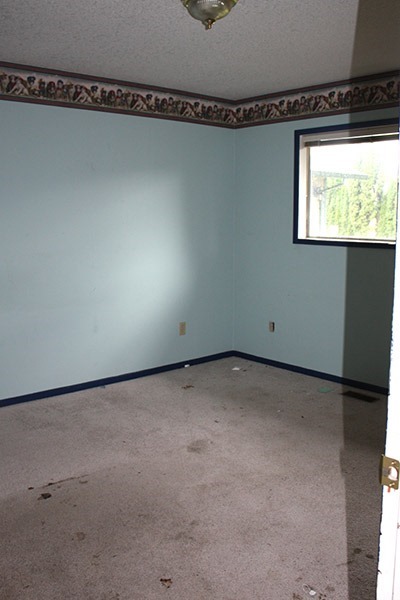 This lovely room will be the space I now have dubbed my studio – I'm SOOOOO excited to have this space, cant wait to tear down those bears and paint this room a bright clean white that I can just fill to the brim with creative energy and inspiration!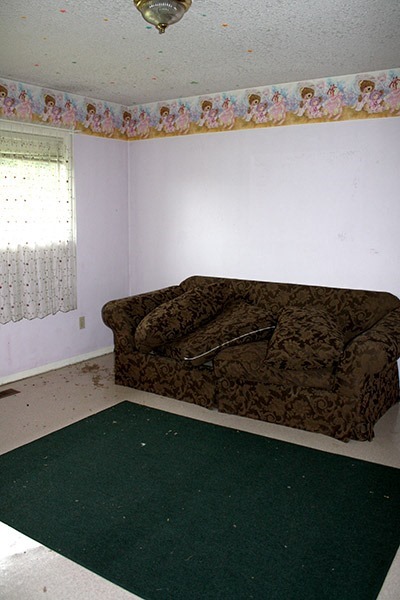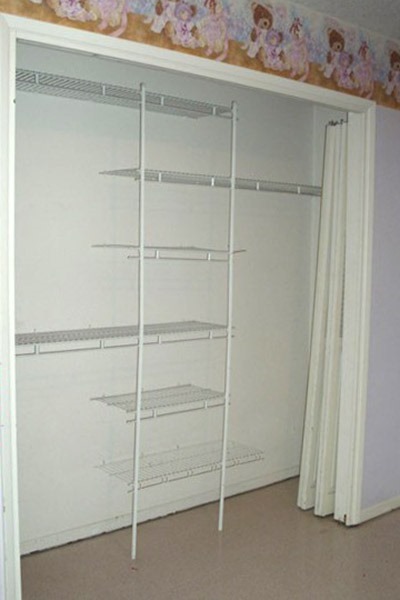 The master bedroom is pretty simple, It is not a huge room but it will be the first time we will have had a master bedroom that didn't need to be another space at the same time – no bookshelves, no computer desk, no random storage – just a lovely space to sleep in peace :)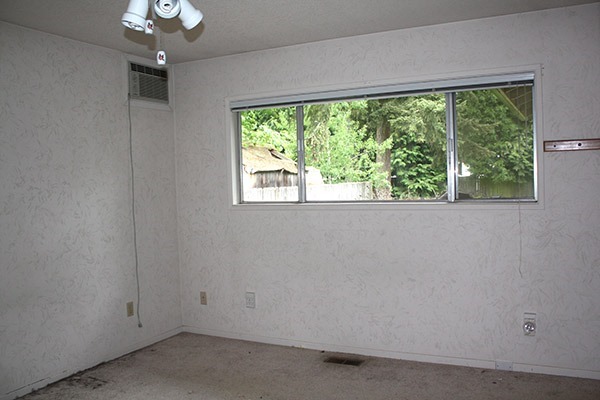 The master bedroom has a bathroom off of it –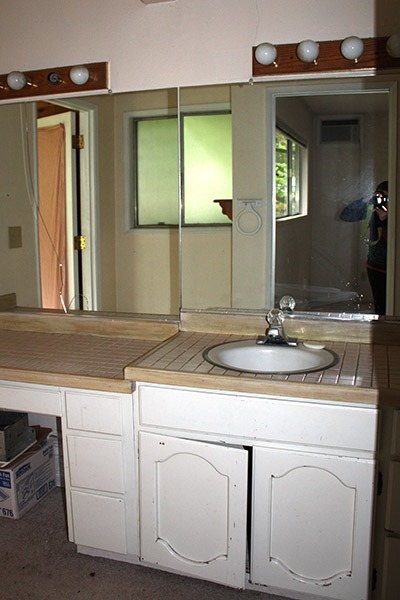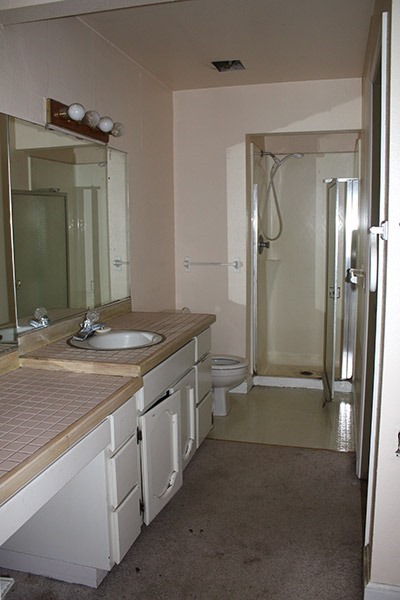 The master bathroom is not huge, but this is more counter space than I have ever had! Also, the best part of the master bath is what is on the other side of it: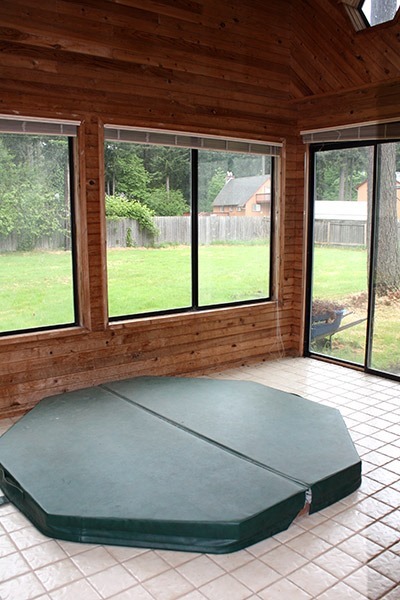 This pretty wood room has a hot tub (it may need a little tlc, we will have to see) but it also has a sauna! I never would have ever imagined having a sauna in my home – it works too!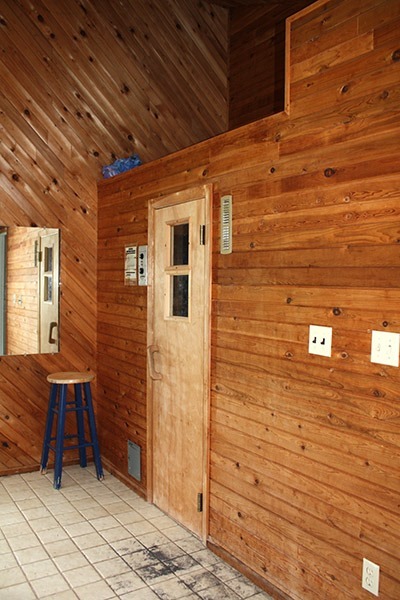 The other fabulous thing upstairs, is our 3rd bathroom – this lovely room has no one living out of it – there are other bathrooms that we will use for personal stuff, which means I have all these pretty little cupboards to store things that would otherwise be shoved somewhere inconvenient – I'm thinking first aid supplies, medicines, hair clippers… lovely organization, I really can not wait to have a home for everything in my new house!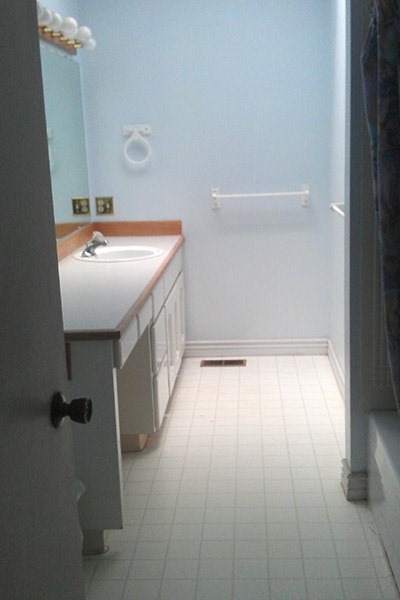 Ok, whew – that is a lot, but guess what – we are only half done!!!  Now we go down the stairs to the basement: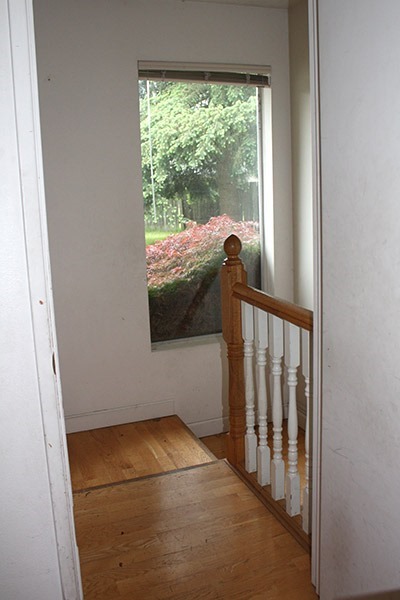 If you come down the stairs and turn right, this is the hallway to 2 of the bedrooms and a few other fun surprises: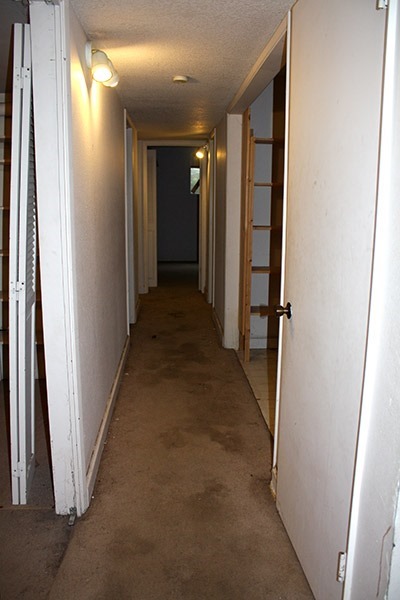 First off, is this huge room with nothing but shelving and the water heater/furnace (lovely storage space!!):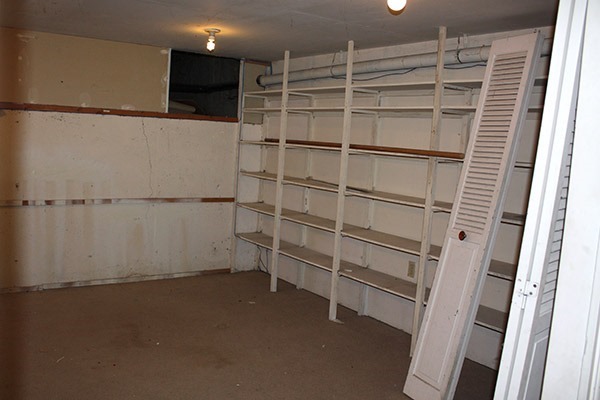 Then on the right side of the hallway there is this little alcove with book shelves and a desk: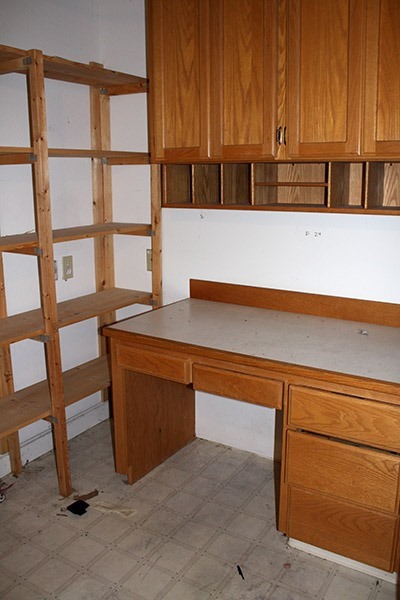 And the boys bathroom, that I can not wait to paint some color other than disgusting pee-colored-yellow!!!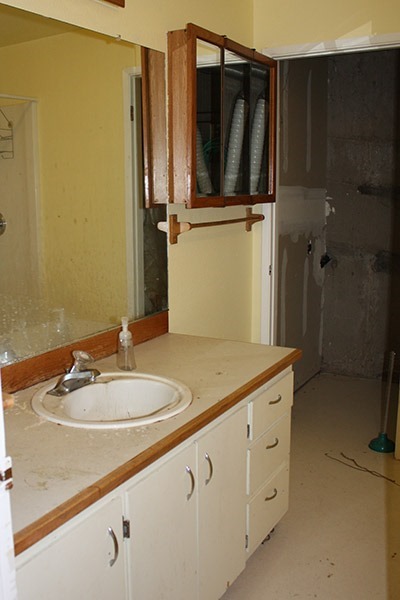 In the back there is also a washer/drier hook up, can you imagine how lovely it would be to have a separate washer/drier down here??
Next is Gareth's bedroom!!  This is the biggest room in the whole house actually, and we picked it out for him right away because he has been such a trouper sharing bedrooms with younger brothers for so long – he is currently rooming with a spunky little preschooler and let's just say I really feel for him!! I don't think he has yet quite grasped what it will be like to have his own room!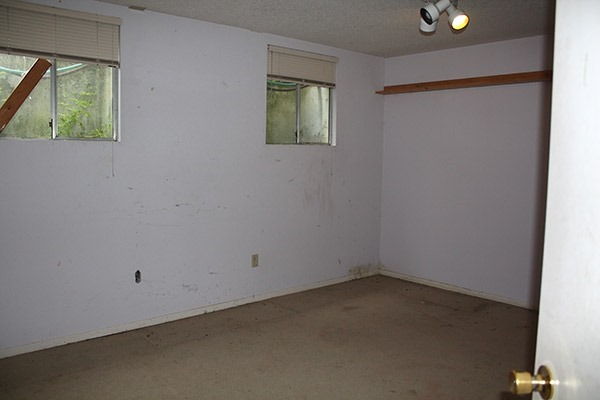 Reece's room is right next to Gareth's interesting paint techniques huh??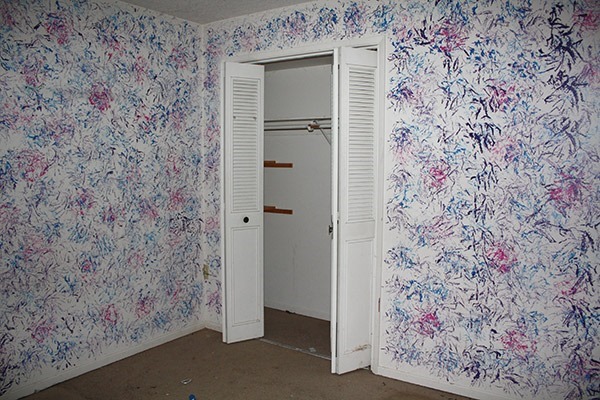 Now if you go back down the hallway this is what you'll see:
First off there is a KITCHEN!! Seriously.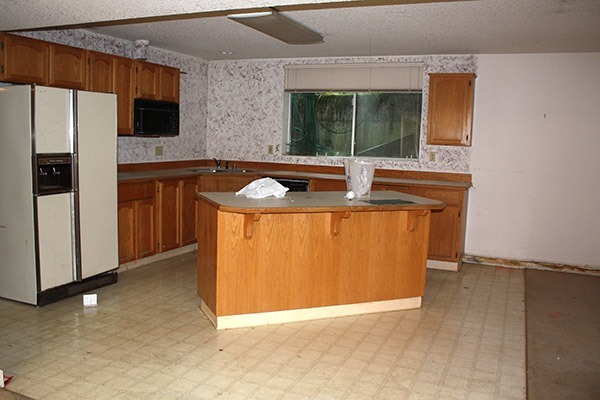 And then there is a big cozy family room :) (hello fireplace number 3!)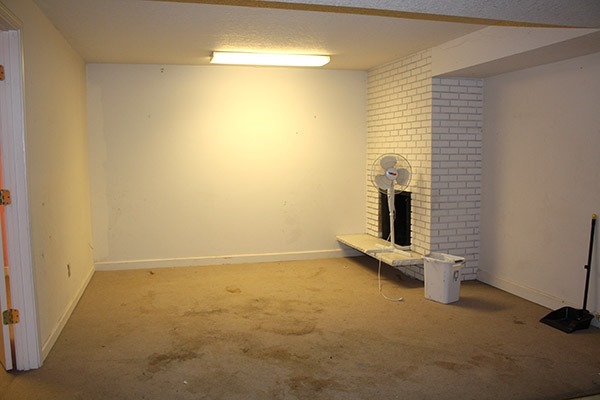 off of the familyroom/kitchen is Tennyson's bedroom (yes this is perhaps the brightest pink ever):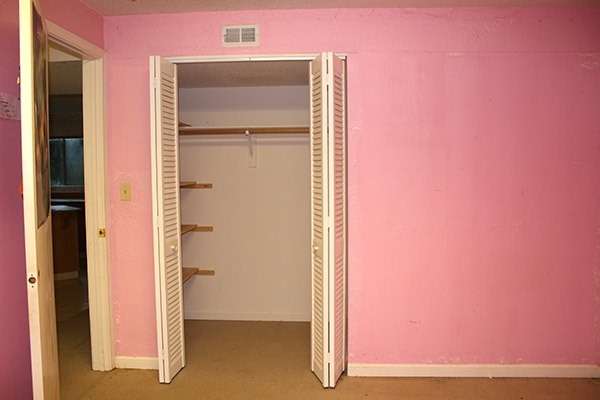 and Owen's: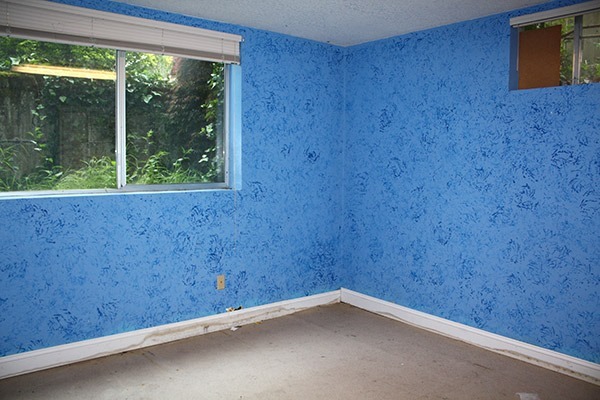 There is another random surprise down stairs, a small 8th room that has no windows or closets – I think we are going to set it up as a room for guests :)
As if this house isn't already awesome enough – it also has an amazing yard – the house is built on a double lot, and there are trees everywhere, it really is amazing.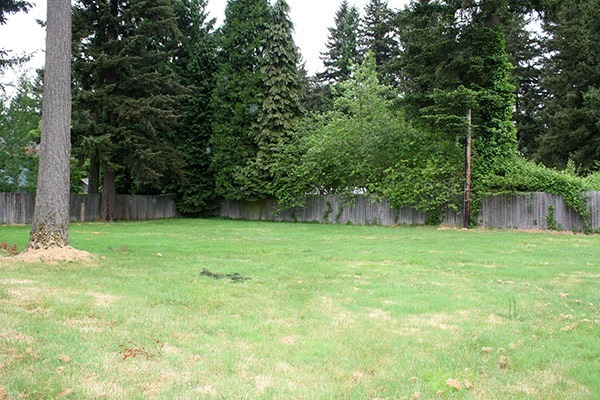 I love the way the house looks from the back yard:
Lastly, this house has something else totally amazing -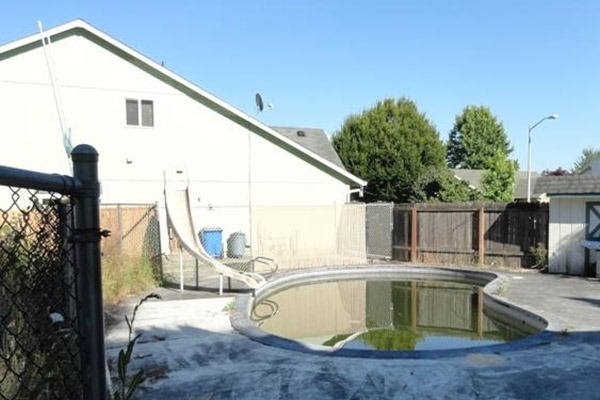 An in ground pool!!! It doesn't have a heater, and it currently houses tons of over grown goldfish LOL – but being there working in the sun last week we realized that we are going to want to get that pool ready for swimmers sooner rather than later… G has always dreamed of having a pool of his own, and the boys are old enough now that I think it will not give me a total heart attack (it's totally fenced as well).  It is seriously like the icing on the cake – we are in awe that we can call this place our own.
I'm sure you noticed that this house is going to be a total project, there are lots and lots of things that need cleaned or fixed or upgraded. But we will just go at it one bit at a time, when we move in a lot of it will still be out dated and imperfect, but it really does not matter to me, this is our home, it is our dream home and when I look around inside all I can think of is just how wonderful. Honestly after 6 months of waiting and biting our nails, we are all really excited to dig in and make it our own.
I'm really hoping to post some of my diy make over pics here as we go, so hopefully I will be back with more to share soon!  We would like to be totally moved with in a month, so it's time to roll up our sleeves and get ready to get things done!