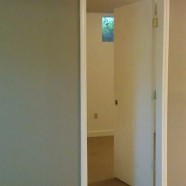 Hard to believe we have had the new place for 3 weeks now! Not sure if it feels like "wow! three weeks already??" or "holy cow, has it only been 3 weeks!?!" if you ask my heart I think I would say the first but if you ask my aching scrubbing muscles they might lean toward the second LOL.
We have made a lot of progress around the house, it really is starting to feel like we could actually move in I dare say… so exciting! Even after working non stop, I still am just giddy over it all, it has been so so so awesome and worth every ounce of energy we've put in.  It was so in desperate need of love, that it is all the more rewarding because you can really see the difference after putting in a bit of elbow grease.  So I thought I'd share a few more pictures just for fun.
My first major job, was to take down those awful curtains! Really, it is the very first thing I did, then I got a brush and a bucket and I cleaned every single baseboard in the house.  They were really really awful, years of dust plus pet hair and just the dirt and grime of being left to its own devices, I had to get out a good cleaner and a toothbrush! Right away though you could really see the difference!  We vacuumed and vacuumed and vacuumed too – thanks to a groupon for 99 dollar carpet cleaning we had to get those carpets all ready to be shampooed! I wish I would have taken better before and afters of those steps because it really did change things so much!  I just have been so determined and excited that it is hard to take a photo break sometimes!
Here is a grainy camera picture though that I got of those amazing windows after they had been de-lace-ified: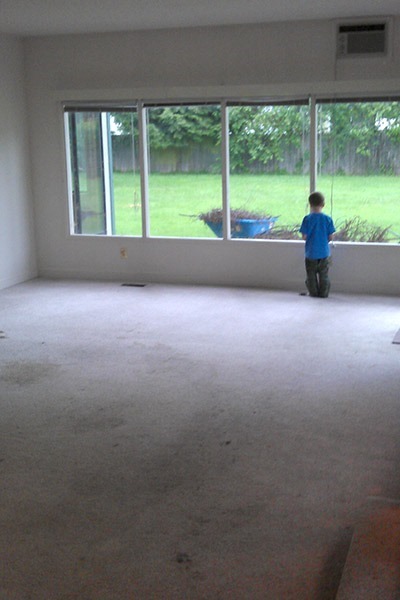 After the walls and the windows were cleaned up a bit, I had to get in that kitchen make some magic!  It took me atleast 3 days, just to clean out the drawers and the cabinets – they were just FILTHY, old food and grease and other unknown substances… they needed a lot of muscle to come clean! I used a lot of bartenders friend under there – and 409 was also a winner.  I also dragged out my steam cleaner that I haven't really used that much – it was a total life save though, there are cracks and crevices and grout that I'd probably still be scrubbing with out it!
Here is a shot I took with my phone of the insides of the cabinets – this picture is totally representative of what they all looked like – the worst part I think was when I would dump my dirty water out and the old cooking smells would be released in the water – ewwwww!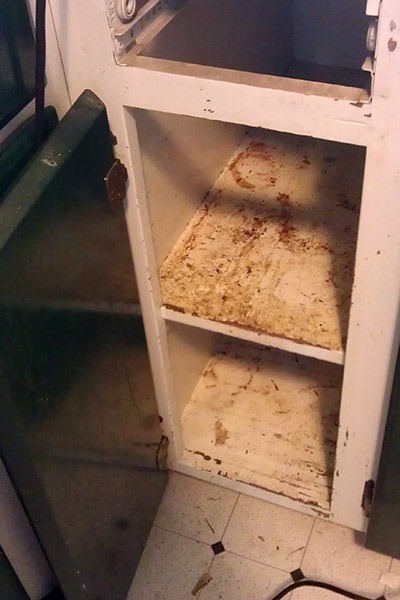 After I scrubbed them (and trust me, there was no gross food stains left!) I covered them in beautiful shelf paper I found at the dollar tree – LOVE this stuff, I bought WAY more than a dollar's worth for this job though!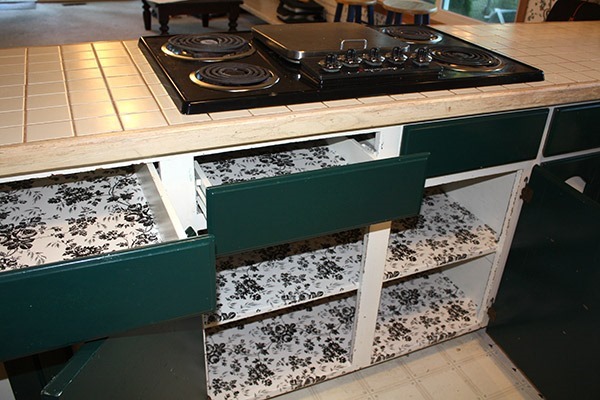 I also had to clean the nasty grout on the countertops – that was at least 3 days as well.  They were tricky to clean – not only was the grout old and dirty, it also had grease worked into each crack and I doubt they  had been sealed in a long time! I tried about 10 different methods on that stinking grout! Including a paste made up of oxiclean that somehow managed to turn into oxi-cement! I had to literally crack it off the counter tops in chunks. Finally with the help of pinterest, and hours of trial and error here is my own personal magical recipe for clean grout.  First, toilet bowl cleaner in each crack of the grout (I would squirt it on and then use a toothbrush to get it in every grout line.) Then, let it sit a few minutes, after that I could scrub it clean-ish, but the grease that was in the cracks would sorta gunk up into balls that I couldn't get off the counter so instead of just rinsing the Lysol I made a mix of dawn dish soap, vinegar and baking soda, it would get kinda fizzy and I worked it into the cracks with a brush right over the first stuff.  Finally, the truly magic ingredient, my hand steamer – I steamed each crack clean and wiped it off with a wet rag… I'm sure you can imagine how time consuming it was to do an entire kitchen! But the results really were amazing:
Before: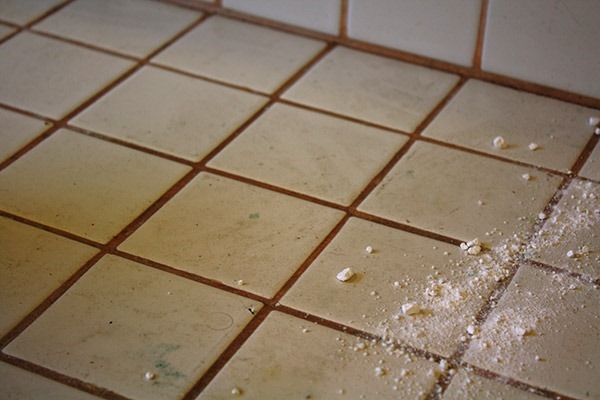 After: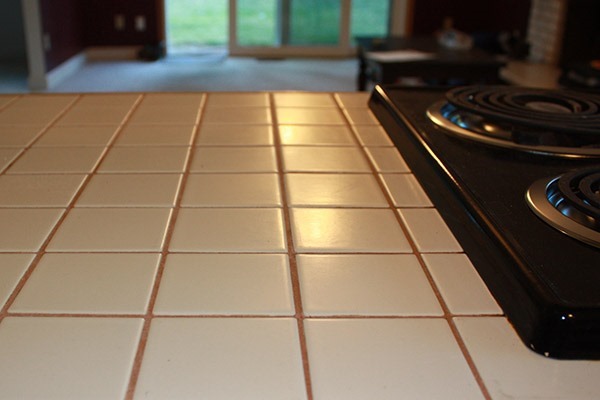 Turns out the grout was actually more pink than it was brown LOL! I never would have known!
Finally – there was one final issue with my kitchen, they crazy dirty floor!! I honestly thought the vinyl was just beyond ever being truly clean again – I know they were worse than my current floors and I've all but given up on these ones!  Anyway, enter pinterest and this FABULOUS tip from the graphics fairy blogger (omg I love you so much gf!).  I bought the store out of scrubbing bubbles (well, actually, I used almost 3 cans I think) – I did add the extra step of scrubbing super dooper hard and then letting it sit another minute before I rinsed.  Bit by bit I scrubbed that kitchen floor, and I convinced reece and owen to help some too.  It was amazing the difference, note the three scrubbed squares in the middle of the photo: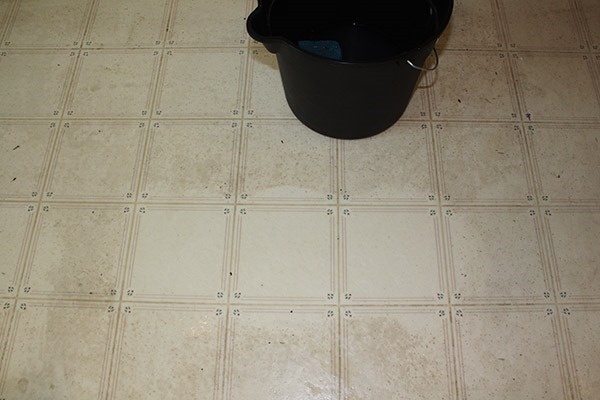 After I finished scrubbing the heck out of it, it was totally clean, but needed a bit more of a shiny finish so I just mopped it a few times with mop and glow which added a shiny protective coat. Here's a quick cell phone shot I got when I finished: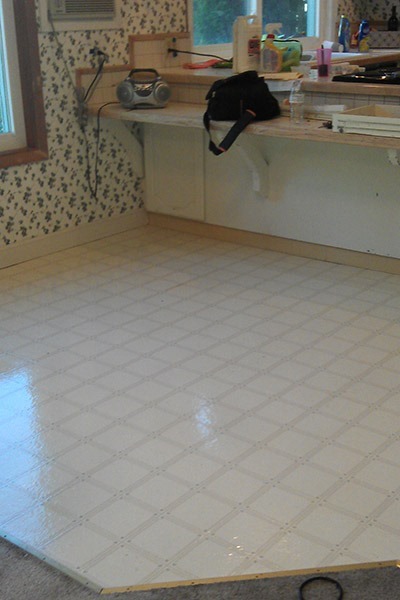 amazing!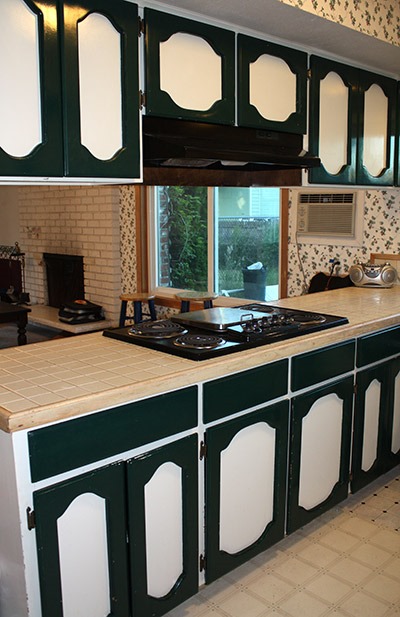 Looks like the sorta kitchen you might want to feed  your family from now right??
In addition to all of my scrubbing and washing away, we have been working on the painting the boy's bedrooms, our goal was to have a special space for each of them when we move in, so we gave each of them a say in what colors they wanted, and then took those intense choices and helped figure out how to tone them down to a reasonable choice LOL!
Gareth our wonderful first born has been very nonchalant and hesitant through this all, so when he told us he wanted a black wall and two black stripes around the room we totally jumped on it!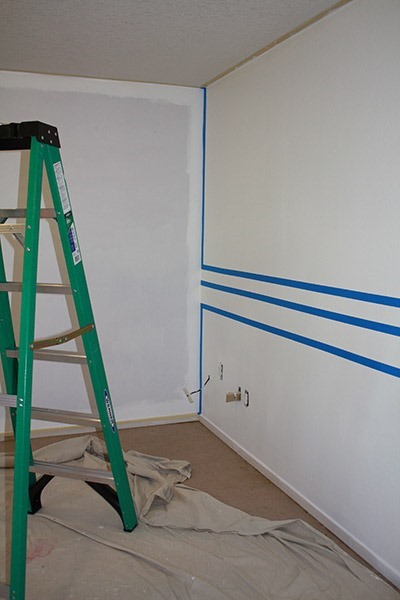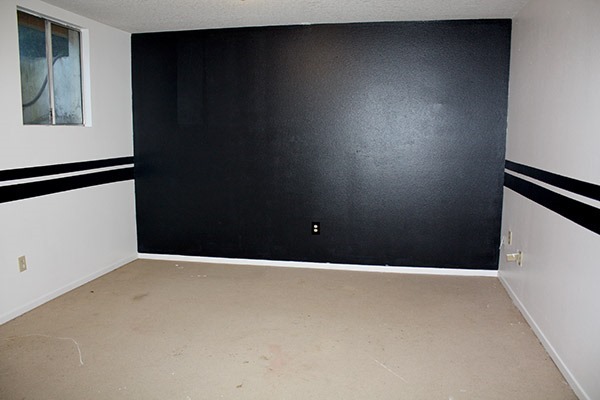 Owen asked for black too, but he was very clear, he just wanted a black stripe at the bottom, "no pizzaz" in his words LOL: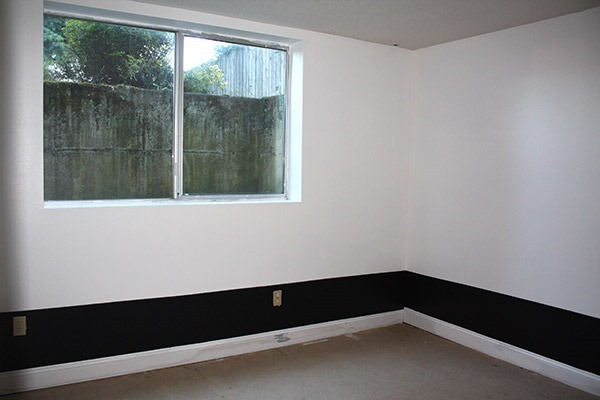 Reece loves green, we knew he would request green, but when he started looking at paint chips, what he really really wanted was BRIGHT, so we decided to do 1/3ish of the wall in green, and then just to capture reece's spark we added in some random little peaks… sorta like electricity meets mountain tops :)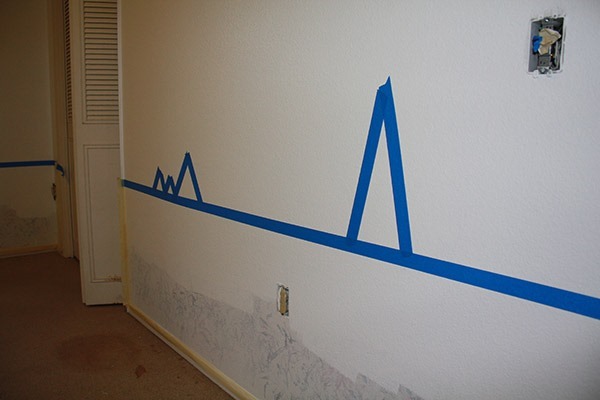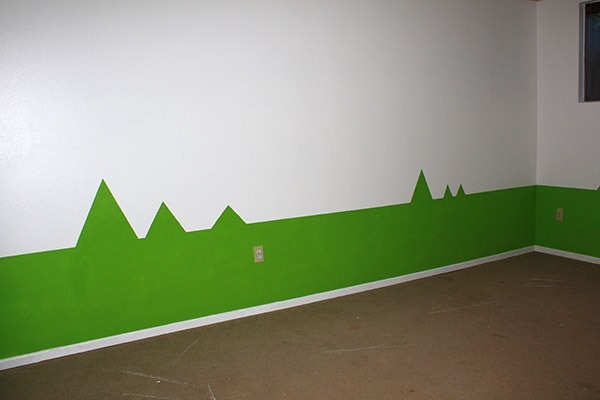 Our little Tennyson really loves blue – and for a while now, he has been very clear, DARK blue, not light.  So when we tried to sell him on some lighter shades he kept reaching for the dark ones – so we decided to roll with it, and when we painted his room g and I just made some random vertical stripes with tape around the room I love the way it turned out, it is bright and open and boyish, and totally tennyson in it's crazy random feel: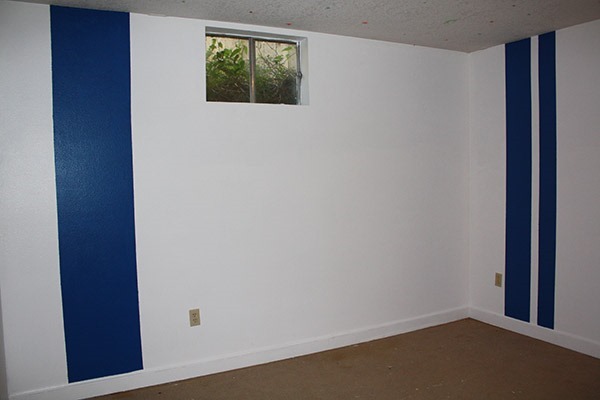 As if all of that is not enough to get me REALLY excited to move in.  We are REALLY blessed to have the opportunity to get new carpet in the downstairs space, that carpet is just really really ready to be replaced and I'm so excited for the boys to be able to move into a space that feels totally new!
With carpet coming I felt like we should just go for it and paint the whole downstairs – it is SO much easier to paint when you can drop your brush or splatter paint around with out having to stress about the floor.  Ever since we first saw the house I have been pinning home ideas and I was really in to the idea of grey walls in the basement.  So when we decided to go for it and paint the whole downstairs I went over to our local Re-Store and found a 5 gallon bucket of fabulous grey paint for 25 dollars – so I decided it was meant to be.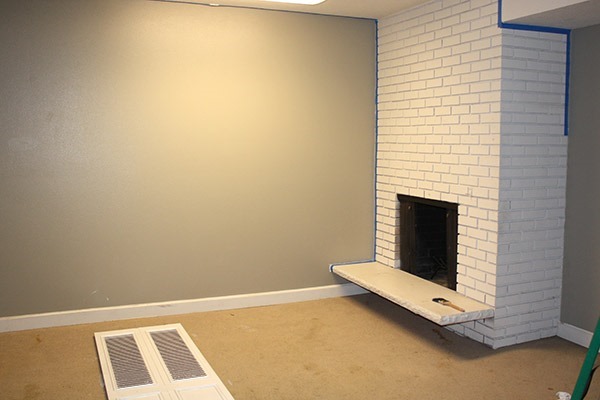 A few friends from my MOMS Club came over and helped me roll it on and I spent the last few days cutting it in. Tomorrow I have to tackle the rest of the trim, but with a crisp white, and the grey carpet that is coming I can't wait to see it all come together! Here is the white clean trim color with the grey: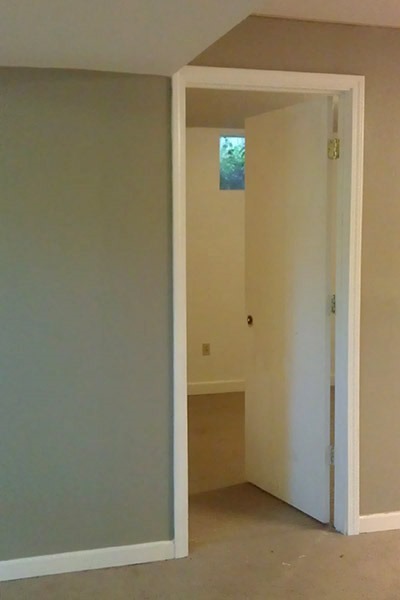 So, there you have it! We are making progress here! At this point, I am starting to feel like we could actually move in to this house, and you know, every second I spend painting and scrubbing just makes me love this place more.  I am so happy, excited and so so proud that we can soon call this place our home <3
Hopefully, in a few weeks, we actually will!