Wow, how time flies when life is happening! We have been very happily settling in around here adjusting to life starting again in the fall and getting used to a new home and a new school and the new routines that come with it!  It is long over due that I post some "where we are now" photos! I'll be honest and say, a lot of these are from all the way back when we had g's parents visiting at the end of august, but really we haven't been able to make many changes since – outside of leaky toilets and lawn mowing and getting our ducks in a row we haven't done any amazing home transformations… our to-do list is long but we are doing little bits here and there, and we are actually LIVING here in our new house, it is a good place to call home.
So, I'll start with the Living areas – We got an awesome set of hand-me-down couches that actually randomly match the whole early nineties burgundy and forest green wall paper scheme that we'll probably be sporting for a while: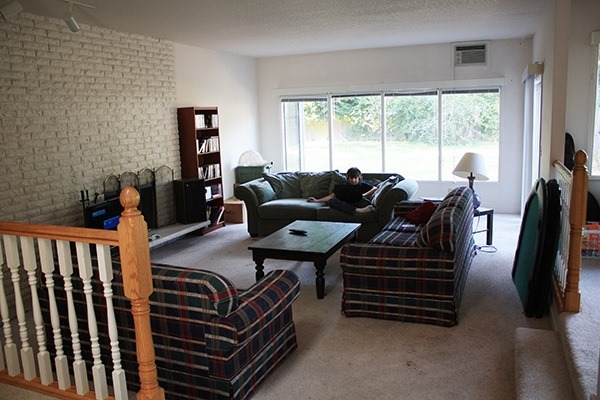 I love having lots of seating space!!! Such an awesome set up!
Here is our dining room with our HUGE table that we found on craigslist for practically nothing! Someday I'll refinish or paint it, and we def. need to step up our chair situation – but once again, such an awesome big space, room for not just family, but friends too!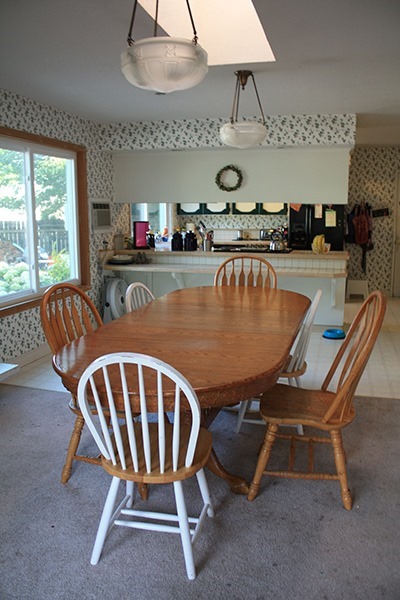 This is my kitchen "command center" – having a desk space in the kitchen is AMAZING!!! SO awesome to have a place for bills and papers and homework that isn't the same space I need to cut onions and mix ingredients in!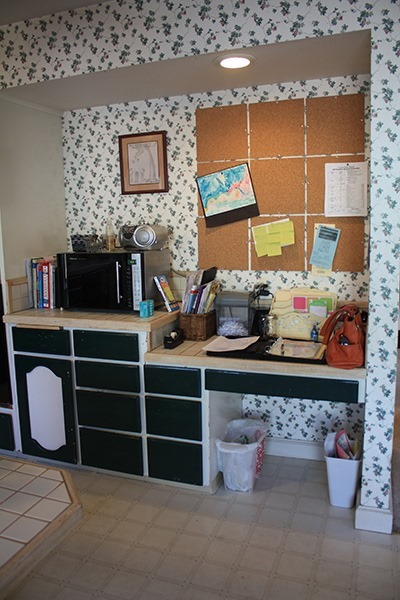 (calendar is on that wall you can't see, looove it!!! And my little square bulletin tiles are getting lots of use!)
Nextly – our main hall bathroom on the top floor needed some sprucing up – I randomly fell in love with this birdy shower curtain even though I had no idea I wanted birds! (just put a bird on it – right??)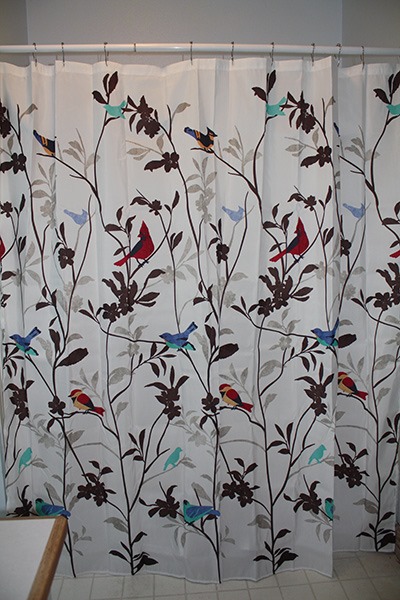 The shower curtain almost even makes me love those bright sky blue walls, it is so lovely in this bathroom that we don't have to use of anyone: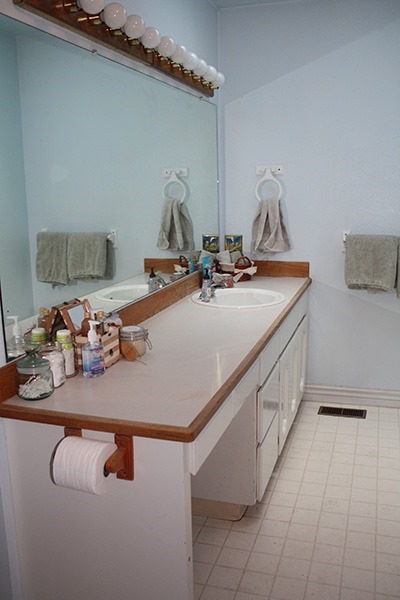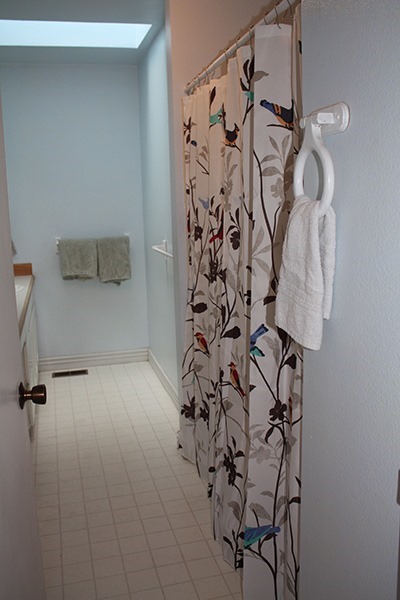 Here is our bedroom – this was exactly the bedding set I had conjured up in my mind, so I was super excited to find it at costco!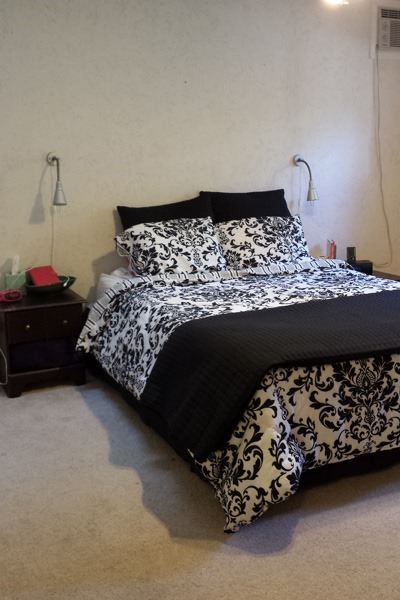 Also upstairs we have our offices – G has his super cool guy office, he has had a lot of fun setting it up over the past month! I really need to do a more in depth post because he actually made his own desk and shelves – it's a pretty awesome space.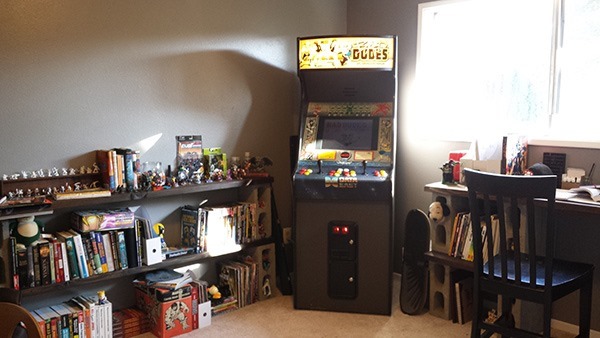 and we are quite the adorable couple with his and hers offices <3  I have the most incredible studio space next door -  I promise to share more studio pics too because I can't even begin to capture it in just this one!!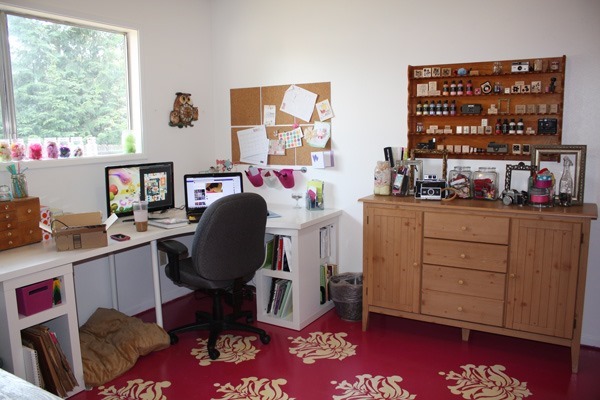 I have a desk, a sewing table, a closet full of craft supplies and a table just for dedicated crafting <3 It is seriously more than I have ever even dreamed of… sigh… cant wait to share more some time in the future because it is like Shawna wonderland in here.  You may also notice too, my glorious floor!! I painted the subflooring hot PINK and then stenciled it with a stencil I made and covered the whole thing in a clear polyurethane, it is fantastic….
Downstairs, with the new carpet and fresh paint plus all the scrubbing we poured into it, is like a whole new house!
Here is downstairs Living room with the new paint, carpet and a really cool Ikea sofa we found for a steal on craigslist: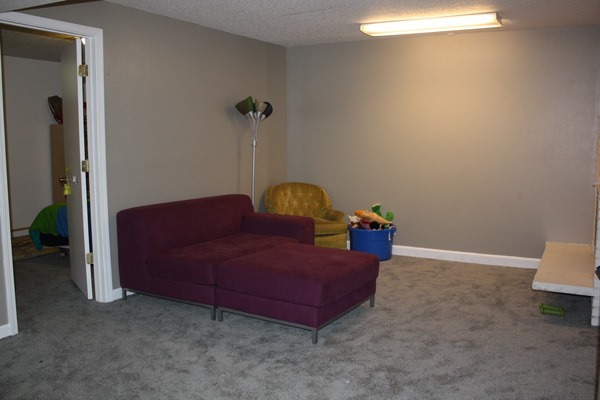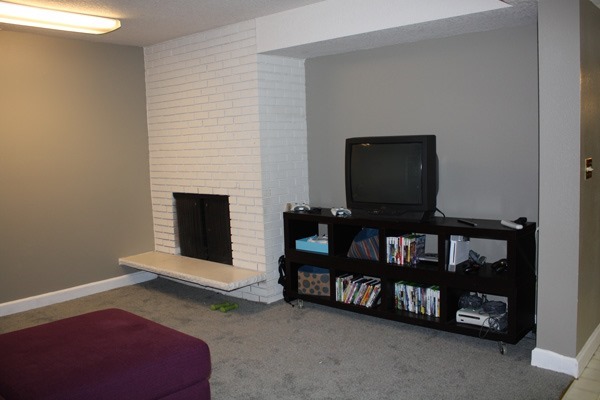 progress on moving into the downstairs kitchen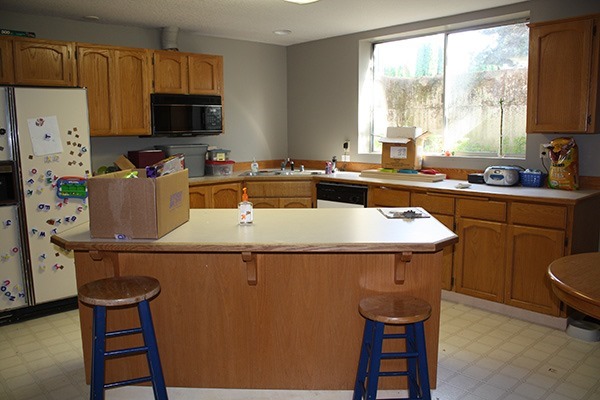 For the boy's rooms we took them all shopping at ikea right before we moved in and let them spend a small set amount on something for their room, it is fun to see what they all did with their own spaces.
For Owen's room he got some space invaders wall stickers at Ikea, and I love the way he arranged them on the walls :) He also picked out the black/white duvet cover, simple and classic.  He also has big time dreams of becoming architect some day so g found this little architect table for 5 dollars on craigslist too: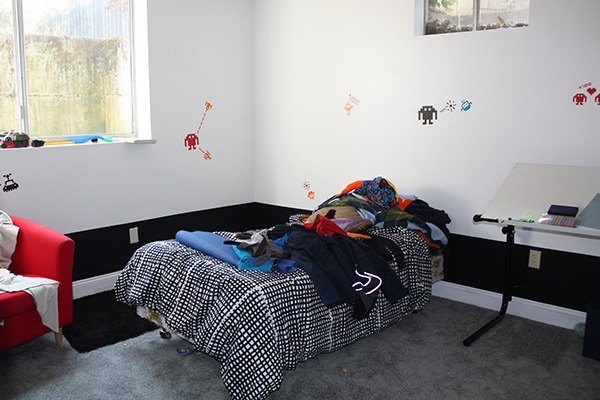 Owen also saw this red chair at Ikea and fell in love with it – we just couldn't bring ourselves to spend something like 70 dollars on it, but then a few weeks later, this super savvy mom found it at a yard sale for 5!
Tennyson's room has this fun duvet cover he picked out – and a car rug he can play on: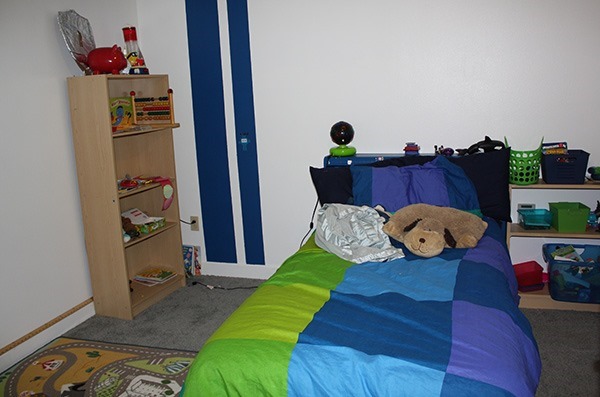 He also has a little rocking chair in the corner that we found for him because that was on the top of his list when we went shopping, he is so cute.
Reece's room is bright and fun and filled with green!! At Ikea he chose a big green body pillow and this fun bed spread (also you can see his little rug on the ground, he has another green one right at his door too) Please don't judge the fact that he's still using a box as a night stand LOL!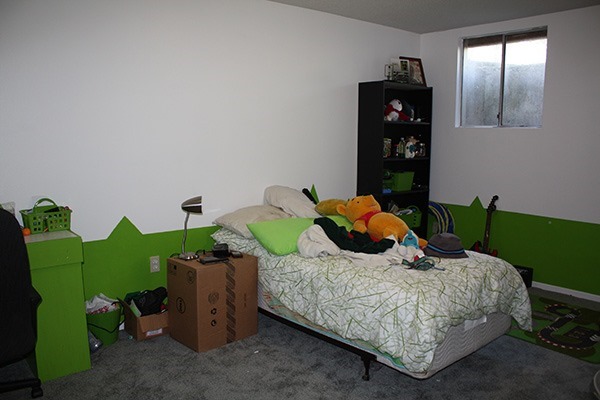 We have also bought some used gungy old skateboards that we plan to hang on the walls as shelves, very reece-like, very cool :)
Gareth has been very "less is more" about his room and he has refused to upgrade to a bigger bed spread even though he is in a double bed now LOL I guess it saves us money though!  He did get a cool lamp and some black sheets at the store. His room is very teenager and he has already had people over to spend the night a handful of times.  I LOVE being able to give our kids a place to hang out with their friends, especially as they get older I feel like that is a really important priority.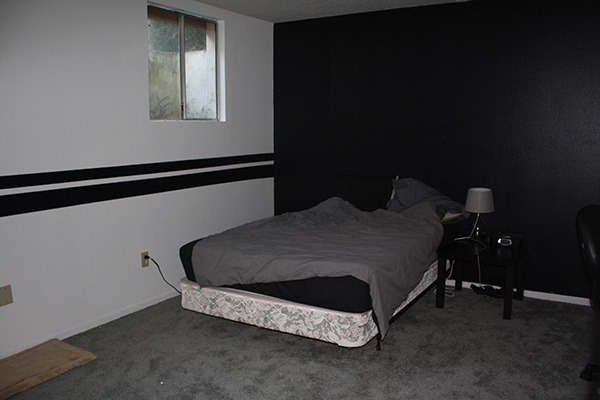 I can't even tell you how much I've loved having a space away from our main living space for the kids to run around and play with toys.  We have a pet gerbil named cherry and his ginormous cage doesn't have to take up any of my precious counter space (photo is pre-gerbil, but you get the idea) – playdough has a home downstairs in the kitchen, the horror that is a boys bathroom is separate from any of the bathrooms I have to use (don't worry, I still make sure we go in there and scrub it down!)  Each of the kids having their own space has helped enormously with chores and clean up too.  The kids can't blame their messy room on anyone else, everyone is actually responsible for their own laundry here and it is easy for them to do because it is all contained into one basket just for THEM – oh I could sing the praises of having SPACE forever!
That's pretty much all I have to show off, there is SO much still to do and nothing is "perfect" but it is such an amazing place to live.  I just can't even explain how very blessed I feel right now! God is so good to us, my family is so loving toward their princess (aka ME) – and my husband is beyond amazing: all the work he has done to get us into this house, and all the work he's been doing since!  I just couldn't ask for more.  I am very very loved, and very very fortunate to be where I am right now.
We have so many projects and plans stewing in our heads, I hope that over the next year I'll have more and more to share about the fun things we've done to this place!! I'll keep posting updates as I can, even if it does take me a month and a half to get it posted!!! Thank you everyone for all of your well wishes and your prayers through all of this, to think that a little over a year ago I was peeking through the front windows of this house… I could not have even dream of what was going to come… And not even a year later here I am posting on my blog in my pink-floored studio!!
Life is good…